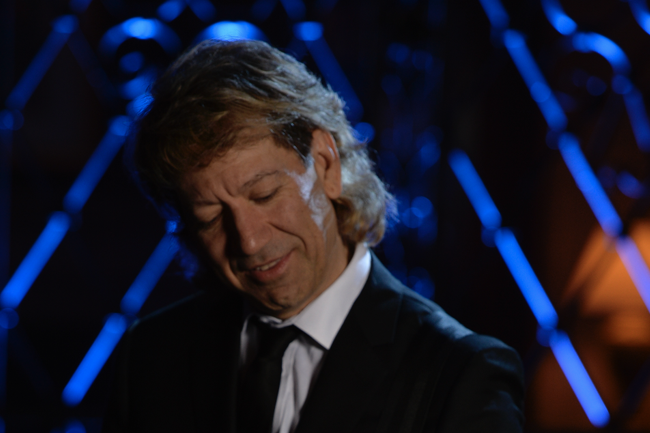 The Joel Young Band is a fun, high energy, engaging private party band. Specializing in weddings, the band members all hail from the New York Tri-State area. With musical influences ranging from Led Zeppelin to Prince, Pearl Jam to Bruno Mars, the band has an appreciation for all genres of dance music including Classic Rock, Seventies, Eighties, Nineties and today's Top 40.
A music major and graduate of SUNY New Paltz, guitarist and vocalist Joel Young has toured throughout the US and the Caribbean during his 25-year professional career. Undoubtedly, one of his early career highlights, was opening up for the Ramones and Billy Idol.
Reviews
Hey Danielle and Stephanie,
UNBELIEVABLE! If you want a PACKED Dance Floor at your wedding or any other event with all different types of music from the 1940's to the 1980's to present day then you only need to contact Hank Lane Productions. They do it all. I personally chose The Joel Young Band for our wedding because they played at my cousins wedding a few years prior. I am serious when I tell you I am NOT a dance person - I love music - but rather bounce around in my chair then show my ""moves"" in public - LOL. The Joel Young Band had me on the dance floor the entire night at my cousins wedding. Two to Three years later it was time for me to book our October Wedding. I called Hank Lane Productions to see what Friday's and Saturdays the band was available that month and planned my date around them… No Joke!.. and they did not disappoint. We had about 240 people at Terrace on the Park and I don't think one person didn't get on that dance floor - it was even packed during dinner service! We had fun, our guests had fun and the band even had fun. TRUST ME - give them free reign to play in between your "must have songs" and you will be the happiest bride and groom EVER! But more importantly your guests will be blown away. They will do whatever you want but trust me when I say they ARE the professionals - let them do what they do. I have a ton of family that are music professionals as well and they said the band didn't miss a beat - the singers were incredible, the music was top notch and never a delay in their transfers from one song to the next. Our wedding was going to be high energy either way - friends and family waited a long time for us to finally tie the knot - but the Joel Young Band made the evening UNFORGETTABLE and SPECTACULAR! Family and friends are still telling us that it was the best wedding they ever attended. I'm sorry to run on and on but I really can't say enough awesome things about them!
Thank you,
Donna Hayes
---
Dear Danielle and Stephanie,
I know it's been 2 weeks since our wedding but the last of the family from Ireland has just left and work is finally slowing down a bit. I wanted to let you know that me and Charlie could not have asked for a better evening. The Joel Young Band was AMAZING as I knew they would be and the dance floor was NEVER empty – I would definitely like to write a review and will get to that as soon as I can but really wanted you all to know what a fabulous night the wedding was and I KNOW we could not have done that without the phenomenal music that the band provided – they were so easy to work with and giving them full reins to do what they do is the best decision anyone could ever make. The keyboardist for the cocktail hour (cannot remember his name) was also a huge hit and perfect for the background music outside. THANK YOU! Please pass along to all the musicians.
Your office was also wonderful in the way you all guided me in what was needed to have the evening run smoothly and smoothly it did.
I cannot thank you enough and just wanted to make sure you know how appreciative me and Charlie are of the work that you do. The entire night was EPIC!
Thank you,
Donna Hayes
---
​​​​​​​​​​​​​​Stephanie, Paul, Marcus, and most importantly JOEL and your incredible amazing band,
I can't thank you all enough for the wonderful energy you put into our wedding day. We just got back from our honeymoon on Monday and we are still receiving compliments on how amazing the Joel Young Band was.
Starting from the beginning of our search something about Joel's music just clicked, more than anyone else we heard. Thank you, Marcus, for bringing Joel to the table and helping us select an incredible band.
Paul, your input and suggestions in our logistics meeting were spot on. Thank you for helping us create a day where the music just flowed, without a hiccup.
Stephanie, you are a killer coordinator!!! Thank you for always being so responsive throughout the planning process, relaying messages without a word being lost in translation. Your advice and ideas were so helpful. You have a true talent for what you do and your passion does not go unnoticed.
Finally.....Joel! You and your band are remarkable (this is to say the least)!!! As soon as our wedding song started my face lit up with joy. You guys nailed it! Thank you over and over again for learning this song for us and making it even better than the original (no offense to Vance Joy). Us, our friends and family, our parents and their friends had the time of their lives. The song selections and variety of music were amazing! I don't think a single person wanted the night to end.
Attached are some highlights we got from our photographer! You can really see the joy on everyone's faces.
Thank you all again for your dedication and hard work!
Lots of love,
Brian and Jess
---
Hey Danielle,
Sorry it's taken a few weeks for us to write a review, it's been a bit of a whirlwind!
First, I want to thank you for everything you did prior to the wedding. All the phone calls and check-ins were so appreciated. Thank you for dealing with my sisters and accommodating their surprise entrance. It was the best and you made it possible!
Now on to The Joel Young Band... Words cannot describe how amazing they were the night of our wedding.
They were so professional, not even taking one break. The music they played kept everyone on the dance floor all night long. They were so great that at the end of the wedding no one wanted them to stop playing and people refused to leave the dance floor! They even let me steal the microphone for a song! We have received so many compliments on how great they were! We have already recommended them to friends. We could not have been happier.
Thank you so much for everything, you guys added to our perfect night!
Best,
Lindsey & Nick Castro
---
Stephanie!
The band was INCREDIBLE! They exceeded our expectations by miles. They knew just the right songs to play and when. My feet are still killing me from dancing all night! So many people were coming up to us and have been emailing/texting us about the band telling us how much they loved them. I would recommend hank lane as a whole and Joel Young band to anyone in a heartbeat and without question. Truly the best day of our lives and a large part of that goes to the band! Thank you so much for your help and preparation as well!
Thank you so much!
Liz & Shawn O'Connor
Joan & Martin Considine
---
Hey Hank Lane Team,
We'll write a formal review and post it online, but I just wanted to let you know that the Joel Young Band...WAS INCREDIBLE!!
We had an EPIC night. Guests were saying that it was the best wedding band they've ever heard. The professionalism of the group was amazing, not to mention they LOVE to have fun. Incredible incredible night.
They also let me sing with them and play the guitar... another big hit of the night.
THANK YOU THANK YOU for all of your help. Please express our gratitude to the group as well.
Victoria and I will write reviews and we'll send them to you and post online everywhere as well :)
Have a great week!
-Mr. & Mrs. Renna
---
Dear Hank Lane Music:
We wanted to write to pay our respects to the band that played at the Englander wedding Last Saturday, April 30, at Buttermilk Falls.
In a word, they were awesome! Great musicians, great musical range, great music. From the Monkees, to Motown, to the Stones, to rap- and most things in between. And they nailed it. True professionals. And they were great fun as well- entertainers, who were clearly enjoying what they do. Also, we loved the fact that there were enough musicians that they could stagger their breaks-and keep the music going almost continuously. They received compliments form everyone. Please pass this along to the best band ever."
"Ian was fabulous to work with. He provided excellent guidance and was fun and fair. The Joel Young Band was absolutely top notch. Our guests are still talking about the band one year later. They made the wedding magnificent with their talent and unbelievable energy. Thank you to all, we will be forever grateful.
Nancy Callan Latta
---
Hi Stephanie,
I wanted to send you a quick note from Bora Bora to let you know the Joel Young Band was incredible Saturday night! We have received so many compliments from friends and family and we have been fielding numerous requests from our engaged friends for their contact information. The band's set list was amazing and their energy got everyone on the dance floor. We were told by numerous guests that they were the ""best band they have ever seen"". So, THANK YOU and please pass along to the band!
Regards,
Sam
---
Danielle,
We just wanted to express our sincere thanks and gratitude to both you and the Joel Young Band. Joel and his group stole the show on Saturday and turned in an absolutely incredible performance. Nearly everyone came up to us after to ask who performed and let us know how amazing they were. In fact, even the owners of Saltwater Farm Vineyard reached out to us the day after and asked who the band was so that they could recommend them to future guests (if they don't contact you let us know and we can connect you).
On top of the performance though, Joel made himself available to us from the minute he arrived and was incredibly professional and accommodating throughout the night. We could not ask for a better experience.
Thanks again for everything, you guys are the best!
Best,
Jon and Sarah