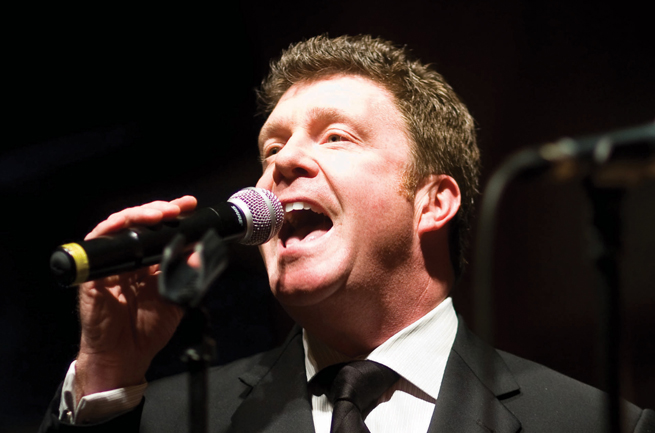 Kevin Osborne is an amazingly talented singer, trombonist, musical arranger, and band leader who excels in many aspects of the entertainment industry. A graduate of the prestigious New England Conservatory of Music in Boston, he has pursued music as a full-time career ever since. Kevin got started in the private event business when he joined Hank Lane Music co-founder Marc Steven's band as a trombonist and featured vocalist. After a couple of years on the band stand with Marc, Kevin was ready to form his own band. He hit the ground running and was an immediate hit with clients and industry professionals alike. In very short order, the Kevin Osborne Band was booked at private parties in New York City's most exclusive hotels and private clubs.
Over the years Kevin has been asked to perform, record and tour with the biggest names in the music business including the late David Bowie, Frankie Valli, Carly Simon, Aretha Franklin, Bon Jovi, Bobby McFerrin, Tom Jones, and more. In 2015, Kevin's band backed up both Stevie Wonder and Sting at a charity event for the Friars Foundation, the charitable wing of the famous Friars Club. Kevin has performed at the weddings for celebrity clients including New York Knicks star Carmelo Anthony and NASCAR superstar Jimmy Johnson.
While Kevin was performing with his band on the weekends, he pursued his other musical interests during the week. Kevin was hand-picked to participate in a workshop for a new musical headed to Broadway, to be directed by the famed choreographer Twyla Tharp, based on Billy Joel's music. He quickly agreed and became an original cast member of the on-stage band for the Tony Award-winning musical, "Movin' Out," performing on the Broadway stage during the week while he continued to lead his dance band for parties on the weekend. Kevin was also chosen by "The Piano Man" to be one of his background singers at the historic closing concerts for New York's Shea Stadium, called "The Last Play at Shea." Kevin had the honor of not only backing up Billy Joel, but John Mayer, John Mellencamp, Garth Brooks and Sir Paul McCartney.
Reviews
Dear Kevin:
It was a true pleasure seeing you on Saturday night at our dear friend's daughter's wedding. I can only say this – we heard you the first time at Michael's wedding 5 years ago maybe? Then we heard you at his sister Heather's wedding, then you played at Robin's daughter Harleigh's wedding (Robin and I go back 40 years) and then I made sure that Nancy hired you for her son Eric's Bar Mitzvah. Get the picture?
When Judy called me with a wedding date, I insisted she book you before she had THE SPACE – I said "Judy – do not even listen to another band: Kevin is your man" and Judy went ahead and booked you. Judy is thanking me over and over again and so did Nancy and Mark after Eric's Bar Mitzvah. In all my party going years filled with wonderful events, I have never heard a band better than yours. YOU make the party, period. End of story. The food, flowers, room- it all matters but…. Everyone cares most about having a wonderful fun time dancing and you make it all happen. You have presence, style, polish and an understanding of the rhythm of a party and crowd that no other band leader has. Your voice is the best and you always put together a great group. My husband and I went on our usual jog on Sunday after getting home at 2 am and our legs felt like we had run a marathon the day before. I can go on and on but you get the point.
My husband Paul and I are determined to come up with an event in the future (we don't have children) so we can hire you. We will – it's only a matter of time. 70th birthday, retirement? , anniversary whatever! We love to entertain and what better way than to share your marvelous talent with all of our friends. You ARE the best.
Happy New Year and warmest regards,
Karen
---
Kevin!!
Returned on Saturday from two weeks in Italy, and I cannot reiterate enough how THRILLED we are with how everything turned out. We had the best time ever and I'm dying to find another opportunity to save our pennies and have you guys party with us again soon! The songs and overall vibe of the night were so special, and we really feel like that was all due to the amazing performers you have in your band! Thank you (and Erik!!) so much for all of your help and patience in helping us throw the best party ever. We had a ton of people who go to weddings all the time and they said we had the best band they had ever heard. We will likely be connecting you with a few newly-engaged couples very soon!
Thanks again! Hope to keep in touch with both of you!
Best,
Jessica
---
Kevin,

Please pardon the lateness of my tribute to you -  but you really made Devora's wedding so special -  and the accolades we are receiving evidence that - You are a master at what you do -  both musically, vocally and as a leader - Thank you again -  and wishing you a healthy and good year

Barry Libin
---
Kevin,

Josh and I want to thank you from the bottom of our hearts for everything you did for us yesterday.  Our day was complete magic! You definitely went above and beyond anything we could have ever imagined.  I am so so so happy Karen recommended you to us!  

Best,
Vlada and Josh

Jenna Wynne