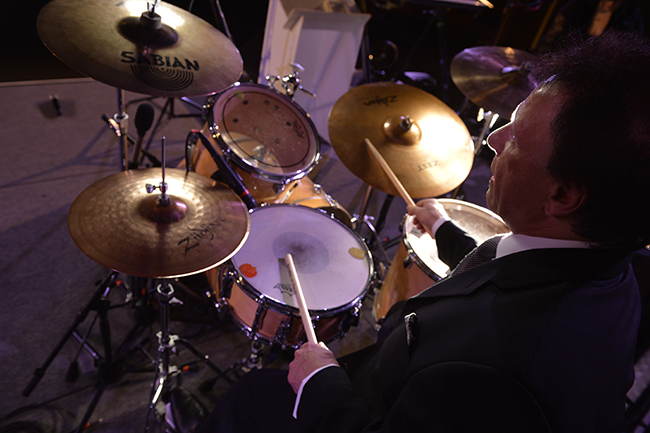 The Frank Michaels Band is among the most versatile pop bands in the country. This group explodes with the diverse talents of some of the New York area's most respected vocalists ... masterfully taking each listener on an incredible journey of the most popular music genres spanning 5 decades. From Sinatra and The Temptations to Blink 182 and The Killers, to Lizzo and Billie Eilish, their authentic performances rival even the originals.
Reviews
Danielle -
I think it's safe to say that I never stopped dancing. The Frank Michaels Band was fantastic. Please forward my thank son to the band for being the ringleaders in what was such a great night. Andrew and I had an absolutely amazing time. Our guests did as well - everyone couldn't stop talking about how incredible the band was. They really set the tone for a fantastic night, playing hit after hit. The dance floor was never empty which is exactly what we wanted. There were family members who are known to never dance up on their feet, dancing like maniacs. It was perfect.
Thank you so much for all your help in planning and coordinating such a great night for us. Hank Lane was so easy to work with and absolutely delivered.
Thank you again!
All the best,
Gretchen
---
Dear Frank Michaels Band,
Thank you so much for making our wedding so memorable! Your band blew us away, I don't think we stopped dancing the whole night. Every one of our guests commented on how amazing you were. We could not have asked for a better band to celebrate with us. We can tell that each member loves what they do + is committed to making it the best night ever. From the entrances to the final song, you made our wedding day one we will never forget. We will highly recommend the Frank Michaels band to everyone!
Jess + Joe Gonzalez
---
Hi Stephanie.
Just want to thank you for all your help and specifically for the amazing job that the Frank Michaels Band did at our daughter's wedding this past Sunday. They sounded amazing and got the party going and we were not such a big party crowd. I saw people dancing who have never danced at previous parties we have attended with them. The musicians and singers were superb and the event was seamless, including the pre-party organization, the music throughout the arrival, the ceremony, the cocktail hour and the celebration in the ballroom. The MC was classy and funny and we are getting a million compliments from our guests. including many musician guests that were present. The band followed all of our suggestions but were flexible with timing all the music to have the most impact and to truly be a blast!  Thank you so much for everything- we could not have been happier. Please share this information with Frank and the band and anyone else who is interested in this wonderful group.
With much appreciation,
Joyce and Jack
---
Spencer,
Today is Wednesday, four days past the wedding, and I am still hearing from guests, "that was the best band we have ever heard!" I cannot agree more. When we first met, I told you that I wanted to dance all night, and dance we did! From the moment the bridal party was announced in the ballroom until the last dance, the dance floor was full.
The Frank Michaels Band members, leader, and vocalists were amazing, professional, friendly, and fun. They "quietly" guided the music and our guests all night long. Everything was perfect, from the first dance, to Paul's dance with Kristin, to the very end. Our guests did not want to leave the dance floor!
I will have this memory forever!
With gratitude,
Cathy
---
To the whole Frank Michaels Band,
Where to begin?! Thank you for making our wedding day the party we wanted it to be! You are all such wonderfully talented musicians, and we are so grateful that you were able to play at our wedding at Blue Hill at Stone Barns! We cannot say enough wonderful things about you all! Thank you for helping to make our big day so special!
Sincerely,
Ali & John
---
Hi Ian,
Can you please pass along our thanks to the Frank Michaels Band and all who were involved in making such a special night for us?
I cannot tell you how many guests have come up to me to say how talented the band was and what a good time they had.
Thank you for being so helpful and accommodating throughout this process.
Kind Regards,
Christina
---
Stephanie,
The Frank Michaels Band did an AMAZING job at our daughter's wedding celebration last Saturday at The Harvard Club. They are top-drawer musicians and singers who drew praise from young and old, alike, and they had the dance floor filled to capacity virtually all the time. They exceeded our wildest hopes and expectations. Honestly, my wife and I -and the bride and groom- have never seen (or heard) anything like it at any event anyplace we've ever attended.
Your organization (and, you, personally, Stephanie) are a bunch of pros. We couldn't be more pleased with the way you took us through the process and made us feel confident -from our first meeting right up until the last chord of "Don't Stop Believing" at midnight on the 21st.
We are truly grateful and we are here if and when you need us to recommend the wonderful Frank Michaels Band -and the Hank Lane organization- to anyone and everyone looking for perfect satisfaction when it comes to finding the right musicians for a wedding celebration.
Please convey our thanks to the band. Those guys (and gal) rock!
Jack and Toby Brandon
Parents of the Bride
---
Dear Spencer and Stephanie,
Eleanor and I had our wedding reception Saturday night at the Water's Edge. As we were standing outside, waiting for the wedding party to be introduced, I heard Frank leading the band in Sam Cooke's Having A Party, that I know very well from Southside Johnny's version. I began to smile.  It was one of the songs we suggested to you and Frank during our meeting last month.  As Ele and I had no idea what should be the intro music, I found Frank's choice to be very inspiring. That is just one example of many as to why I selected Hank Lane Music.  I wanted the best wedding band, and I got it. Spencer, you said things to me during our first meeting and every one of them was delivered. Every song we requested, that to my knowledge was not part of the usual repertoire, was done well. Ele asked me if I thought anyone in the crowd had ever heard of Look At Me, I'm In Love, our first dance.  I told her I didn't think so.  But I know the band learned it in the past month and performed it letter perfect.  As with all the songs we requested. And all the other songs we didn't request were done well.  Also, during meals when 1 or 2 musicians were in the background, those songs were great. I wasn't sure about doing a Hora (Ele is catholic and had no idea what that meant). So I didn't push for one. But mid-affair, my friend who works for Ohio St Hillel asked if we could do it and I said yes. I believe every single person was on the dance floor during that one. Possibly the best Hora music I've ever heard performed. And I didn't fall off of the chair. We were very glad we added the sax player. Especially for that.  How could you do a smokin' hora without a sax? Musically, the evening was a huge success.  I would tell anyone, that if you want a band and not have to worry about anything and just be excited about their performance, to make sure they come visit you and see when Frank and his band are available.
Barry Gellers
---
To the amazing Frank Michaels Band & lighting specialists,
Our guests are still raving about what an astounding band we had at our wedding! Thank you so much for providing such wonderful music for our reception. From the cocktail hour to the first dance to the late-night jams - The Frank Michaels Band was fantastic. We absolutely loved the pin spot & monogram lighting in the room - it really set the mood & tone for a joyous & romantic evening. Both the music & lighting were such a special part of our wedding celebration and we're so thankful for all of your effort to make it so perfect!
Thank you again!
With love,
Alyssa & Clarke
---
Just wanted to thank the Frank Michaels Band for an amazing performance at our wedding last weekend. I was excited to begin with, based on the recordings I heard in your office, but the band blew everyone away live. Numerous friends approached me to say this was the best they'd ever heard at a wedding & that the band performed perfectly. We couldn't agree more. Thanks so much!
- Matthew
---
Spencer,
The band KILLEDDDDD IT!
Frank and the rest of the crew were phenomenal!! People would not leave the dance floor -- it was literally packed all night and we genuinely felt like they were guests at the wedding. They interacted with the whole crowd and we adored them.
Thank you so much for your help identifying and nailing the perfect band for our wedding!!!
- Stephanie and James
---
Hi Stephanie,
I just wanted to thank you for all of your help with everything prior to our wedding.  Everything went perfectly this past Saturday, and we were so delighted with Hank Lane and the Frank Michaels band, they were AMAZING!!!  We've received so many compliments from our guests about the band, and were personally so happy with how very talented and professional the band was; they made our wedding reception so special - exactly the tone and music we hoped for. We will certainly pass along and recommend to anyone searching for a band.
Please do extend our thanks to The Frank Michaels Band and the team at Hank Lane.
Best,
Meredith