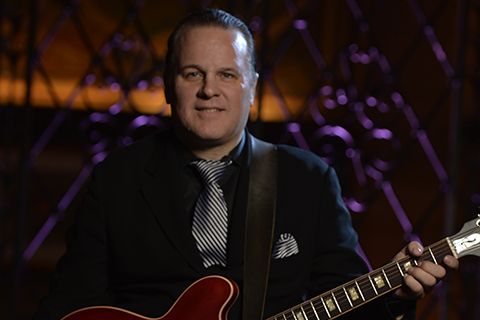 Jeff Lubin began guitar lessons at the age of 8. A few years later, he put together his first band for his junior high school's annual talent show. At 17, he was offered his first paying job as a guitarist/vocalist and has been working professionally ever since. He has been a professional band- leader at Hank Lane Music for over 15 years.
Jeff's band is extremely versatile, playing music from the Big Band era to today's Top 40. Jeff's clients rave about his spot-on renditions of Classic Rock from the 60s to the 80s. An accomplished guitar player and vocalist, Jeff also loves to play unplugged classics on his acoustic guitar, playing artists from the Beatles and Oasis to Green Day and Dave Matthews.
In an event that received national coverage in 2007, Bruce Springsteen was a guest at a wedding at the Venetian Gardens in Garfield, New Jersey. The Boss sat in with Jeff and the band for 2 numbers. Jeff has also entertained the likes of former Knick's GM Isaiah Thomas, Oprah Winfrey, Barbara Walters and former Vice-President Al Gore. Jeff has been a contestant on the X Factor on Fox. Other television appearances include Another World (NBC), Nueva Estrella Awards (CBS). Jeff has opened for national acts (Winger, Extreme, Skid Row), and has entertained presidents, vice-presidents, and rock stars (George Bush, Al Gore, Bruce Springsteen, Chris Carabba/Dashboard Confessional). Some of Jeff's recent clients have included SNY's Chris Carlin, and the New York Racing Association's Belmont Stakes.
Reviews
Hi Jeff,
We wanted to say thank you to you and the rest of the band for an absolutely amazing time Friday night. Everything from the ceremony music to the end of the night was exactly they type of music we wanted to hear. Can't even tell you how many complements we got about you guys! Please let the rest of the band know how happy we are - we will never forget it!
Hope more couples try the pre-dance shot, helps with the nerves :)
Thanks Again,
The Boeligs
---
Hi Jeff,
It would be an understatement to just say thank you for being a part of our wedding on August 8th at Battery Gardens. I assume that you often meet brides and grooms and play at their weddings and it's all the same to you. But to us, our family, our friends, it was NOTHING like anybody experienced before.
We thought we would have a great band, playing some of our old, classic, favorite songs, and what we ended up with was the biggest dance party with the best band that anybody (including our own married siblings) have ever heard! You MADE our wedding. To us, music was more important than flowers, my dress, who sat where, it was all about people dancing, laughing, loving, ON the dance floor. Jeremy and I love music, it's such a part of our daily lives, and we fell in love so many times talking about music together - We were able to achieve having music being something we fell in love with again at our wedding for ourselves, and all of the guests, because of YOU. Thank you!
You may not remember, but at the very end you played Yellow Ledbetter, our favorite song. We had no professional photographers, no professional videographers, but just a few friends who realized the magnitude of what it meant to us and took pictures and video.
When we recap the wedding with each other, when we talk to friends about the wedding, the first words out of their mouths are ""THAT BAND!!"" and if they were lucky enough to be there for the last song, it was ""Holy shit, Yellow Ledbetter!""
You will forever be one of the best parts of one of the most fun, special days of our lives. We couldn't be happier that we got to meet you, and have you created the environment that you did for us.
Again, Jeremy and I thank you from the bottom of our hearts. Please extend many thanks to the rest of the band - and know that the wedding was what it was because you were a part of it and added to all of the love, laughter and fun to make it the best dance party we have ever been to!
All our best,
Jessica and Jeremy
---
Dear Stephanie,
Ryan and I are currently in Thailand enjoying the first official day of our honeymoon and we wanted to take a few minutes to thank you and the Jeff Lubin Band. I'm hoping you can pass this on to Jeff...
First of all, thank you for being so helpful in the weeks leading up to the wedding. I could always count on you to get back to me right away and making sure we were able to arrange everything we asked for.
And most importantly, the band was incredible on the wedding day!! We cannot thank Jeff and the rest of the band members enough. They truly exceeded our expectations and everyone is still talking about how great they were. And somehow, they knew that the most perfect ending for our group of friends would be a Blink 182 song...our friends are still talking about how fun that was!
Thank you and Jeff again!
All our best,
Maddie & Ryan
---
Hi,
We just want to tell you how incredible the Jeff Lubin Band was Saturday night! It was a magical evening for us and the resounding opinion was that Jeff and the band were the highlight! Please pass on our sincerest thanks for making our night so special.
We would love to have a copy of the set list if you could send it to us.
Thank you and all the best,
Samantha & John-Claude
---
Hi Stephanie,
I just wanted to send you a quick note to say thank you so much to you and the Jeff Lubin Band for doing an amazing job with our wedding!!! We had such a variety of guests at our wedding, old, young, Italian, German, Filipino, and somehow or another the Jeff Lubin Band was able to get every single person there up and dancing throughout the entire night. I got phone calls and texts the next day from all of our guests telling me how amazing the band was, especially the Italian singer. Everyone thought he was a recording because he sounded flawless! The entire process leading up the wedding as well was so easy and stress free - thank you!
I also wanted to send you some photos of the band that our photographer gave us! :)
Thank you again -
With Love, Nicole & Eric Vogel
---
Hi Stephanie -
I'll write a formal note to Jeff and the band but wanted you to pass this along to them right away.
No surprise that the Jeff Lubin Band were absolutely fantastic and totally rocked our party. They were everything we remembered from Julia and Bryan's wedding and more. Our guests were just going nuts over them. There just aren't words to describe how happy we are to have had them as part of our day, they are beyond talented.
Thank you thank you thank you!
Angela & Anthony
---
The Jeff Lubin Band made my wedding more special than I could have ever imagined. My wife and I got married last month, and guests are still raving about the band. Three comments have stuck out to me. First, people have said they have never seen so many guests on the dance floor for the duration of the wedding. Second, guests have said during many songs, they could not tell the difference between Jeff and the actual singer of the song, and often times, Jeff and his band sounded better than the original. Lastly, one guest commented that he skipped dinner just to listen to the band sing because of how good they were. Thank you again to the Jeff Lubin Band. They are worth every penny, and more, and will make your wedding the best party you can imagine, guaranteed! 
Thanks, Stephanie, and all the best.
Jeremy
---
Hi Justin,
Sebastian and I just wanted to thank you personally for all your help and input throughout our wedding journey :) . As expected, the Jeff Lubin Band did an outstanding job on Saturday night and we (along with all of our guests) had a blast. We even got them to do an encore. They really were incredible!!!
Thanks again for everything,
Tracey
P.S. Jeff did an awesome job with our wedding song!! He said he may add it to the rotation ;)
---
Hi Kim,
I wanted to let you know how happy Dan and I were with the Jeff Lubin band! They were amazing! They brought so much energy to the wedding, and everyone was dancing the entire night. Jeff played all of my requests and had a great set list, which people are still talking about. We couldn't be more happier with our decision, and just wanted to let you know how wonderful they were. We would highly recommend them to anyone looking for a band for their wedding.
Thanks,
Jessica
---
Hi Jeff,
We just wanted to drop you a note to say, thank you. It was such a pleasure to have the Jeff Lubin Band for our wedding –we could not have been more pleased and impressed. We cannot say enough about how happy we were with your band and the Hank Lane experience. From the ceremony music, to the whole wedding, from your energy and wonderful voices, to the amazing instrumentals (especially you rocking out on the guitar in the crowd) all made our wedding that much more wonderful and is something we'll always remember. All everyone has been saying to us during, after, and since is how amaaazing of a band we had, and it is the absolute Truth!! Thanks again!
Harlan, thanks for setting it all up – you couldn't have picked a better fit.
All our best,
Jessica and Mitchell
---
Hi Spencer,
The wedding was this past weekend, and it was amazing!  I have to tell you that once again, Jeff has made it the best night ever!
No one ever stopped dancing and except for the dinner service, the band went on and on. I have to laugh, I think I have a new best friend!  
Unfortunately, I don't have any more weddings, but I told Jeff if I ever have another party, I will call him immediately. The kids took a picture with the band , and I promised that I'd get a copy for him. He has my number, and I his. I just want you to know that he is the nicest person and totally engaged in making everything perfect. The members of the band are excellent, and our guests couldn't get enough. No one wanted to see it end! Taylor was drenched in sweat and split his pants! It was so funny. 
Thanks for everything. You steered me right 8 years ago with Amanda, and all these years later it was better than ever ,and still amazing. Jeff is a gem. 
Thank you for your help and understanding. I thank you.
All my best always,
Diana