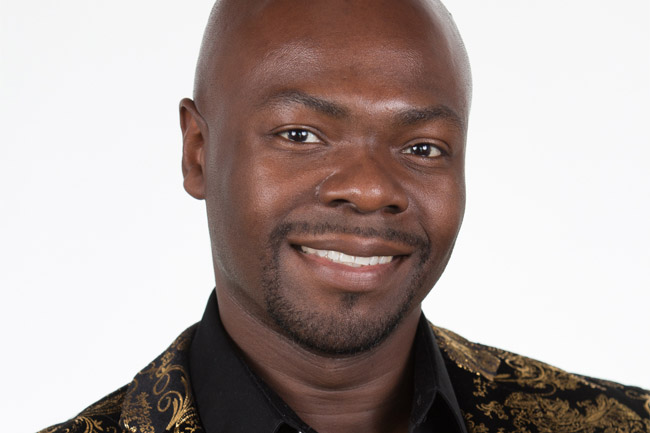 In a relatively short period of time, the Bobby Attiko Band Music has become one of the most sought-after private party dance bands in the New York metropolitan area with a reputation stretching from Coast to Coast. Bobby's charismatic persona, amazing voice and the unrivaled energy he brings to his band makes them the one to have for so many clients.
Since graduating from college, Bobby has become a full-time performer. In addition to performing at countless weddings and private parties he has made numerous appearances on television and in film. These include a featured role on NBC's "The Apprentice," on the HBO television series "Oz," the feature film "Shaft" starring Samuel L. Jackson, "106 & Park on BET," and as a commercial jingle singer for the Toyota Rav 4. Bobby has performed on NBC's "Today" show twice on their popular "Today Throws A Wedding" segment and in wedding features on the "CBS Morning News" and "News 12 Long Island." Print media has taken note too, with a feature in Gotham magazine. Bobby will probably tell you that one of the most fun parties he has performed, is with Harris Lane at Sean (P. Diddy) Combs' 35th birthday bash at Cipriani Wall Street.
Bobby Attiko Band Reviews
Hi Bobby,
Just wanted to reach out and thank you once again for what a wonderful job you did at our wedding. We had such a great time. Everyone had nothing but amazing things to say about your band. I hope that we can have you play again at another event in the future. You will certainly be our first thought for a band.
Thank you,
Eric Green
---
Bobby,
THANK YOU!!!!!!!!!! We just wanted to thank you for what was absolutely THE best night of our lives. The Bobby Attiko Band absolutely crushed it, and everyone has been talking about how unreal you were all day. You played the right stuff at the right time, were insanely energetic, and you were nothing short of exactly what we wanted for our wedding. Can't thank you enough and we look forward to seeing you at parties in the near future.
So much love!
Best,
Andrew and Elissa Glaser
---
Dear Bobby and the Bobby Attiko Band,
We don't have enough superlatives to express how thankful we are to you all! You guys were utterly incredible and made our wedding. You totally killed it!!! All our guests told us how much they loved you guys and how amazing you were. People were BLOWN AWAY.
When we sat with Spencer to watch the videos of the bands months ago, your performance instantly jumped out to us but what you did on Sunday night completely surpassed all our expectations. Your energy, dynamism, charisma and character were phenomenal, not to mention all your sweet moves. The funniest thing we heard all night was Eric's beautiful and very chic niece telling us that you guys were too cool for us!!!!
You can tell you guys love what you do and love playing together. The chemistry and joy emanated from all of you all night. Beyond that, your musicality, voices and sound are unbelievable.
We loved every minute and some of the fondest memories we have and will hold for years to come are of dancing and seeing everyone's faces lit up and going crazy as they rocked the night away.
Please share this with all the Bobby Attiko Band and anyone else involved and tell them a massive thank you from us.
With deep respect, admiration and gratitude,
Neil and Eric
---
Morning Bobby,
YOU AND YOUR BAND WERE BEYOND AMAZING SATURDAY NIGHT! Everyone hasn't stopped talking about the Bobby Attiko Band and the music! We can't thank you enough for helping to make Marni and Brett's wedding absolutely perfect!
Can't wait to celebrate with you and your band again for Stephanie and Marc's Wedding next year!
Thanks! Thanks!
Best,
Michelle & Glenn
---
Harlan,
Bobby got the guests back up out of their seats and soon it was time to pay a tribute to Shanna's mother Ann.  The very day we met Ann her one request for the wedding was for the band to play "Brick House" because that was the nickname for her group of gal pals.  Bobby started up the song and invited Anne and the ladies to join him onstage!   
Shanna and Justin
---
Kim,
We just wanted to say thank you again! We had THE BEST night of our lives and you made that happen. We're sorry we didn't get to meet everyone else in the Bobby Attiko Band that helped make that possible but since all of our guests said you were the best band they've ever seen, we're hoping to see a lot more of you at future events. Please tell Kelli and Curtis and all of the other fabulous band members that we didn't personally get to meet that they all exceeded our expectations and that we are eternally grateful for everything! I was the sweatiest bride but I didn't even care because I just wanted to keep dancing! My legs are still sore and I love it! Once again, thank you from the bottoms of our hearts!
All our love,
Skylar and Alex
---
Dear Bobby,
Wow! The most awesome, fantastic, party we could ever imagined!! I always said it's all about the music and wow did the Bobby Attiko Band accomplish that to the highest degree!!!
Thank you, Bobby, for making the wedding something never to forget!!! Everyone has been calling all of us to say how amazing everything was.
Xxxxoooo
Lynn and all
P.S.
I am glad I acted on Bill's suggestion to book you ASAP
---
Dear Bobby,
Thank you so much for your extremely talented voice + dance moves and band to help make our wedding night beyond perfect. You were truly the hit of the night and people still tell us how incredible you were 3 months later. We can't thank you enough and look forward to seeing you soon!
Lindsay + Ian
---
Bobby,
I just wanted to thank you again for last night. Words really can't describe how amazing the Bobby Attiko Band is. You really have to see it first hand to understand.
Thank you for everything and thank you for making our wedding the best night of our lives and the best wedding anyone's ever been to. I just hope you know how appreciative we are, and always will be, that we were able to have you!
Hope you have a happy holiday and a great new year and I hope you didn't pull your back or anything picking me up :)
Sincerely,
Cory Shlofmitz
---
Hello Bobby!
I hope you and your band are having a great summer! My husband and I wanted to reach out to you to say thank you so very much for making our wedding perfect .... literally our Dream wedding reception! Thank you for traveling to West Hills in Orange County in June to celebrate with us on our wedding day. We truly had so much fun, it was the best day ever! I danced all night and had a blast! I can't tell you how many compliments we received on your music and entertainment. We even heard that the owner of the venue booked your band for a Gala in November. We plan to go! I have attached some pictures for you. Hope you like them!! Thank you again for everything! We would redo our wedding any day!!
Sincerely,
Katie (Rudy) and Peter Tomczak
---
Bobby,
Let me start by saying this – I know you get these emails all the time and this is not new territory but I am going to go into the same bin. CONGRATS ON PERFORMING LIKE A SUPERSTAR AND PUTTING TOGETHER THE BEST TEAM WE HAVE EVER HEARD! This is not yelp or a review or even a hank lane shout out – This is REAL!  You and your band gave our guests (who by the way KNOW HOW TO PARTY!) the greatest experience in all of their lives for some of them. The band should be called Bobby Attiko and the Experience but that would still be short of what the actual live performance creates. Glad you were able to enjoy some down time at the after party. Now that was all me – My DJ and my man ripping it up for guests to enjoy. I knew I had to come strong after your work. Magical moments in my life – getting married at the Pierre and watching The Bobby Attiko band perform.
Regards,
Joe and Christie
---
Bobby,
Thanks so much to you, Carlos and the band for such a spectacular wedding day!! The band was fantastic and kept everyone on the dance floor all night. We would highly recommend the Gotham Project to anyone and we are so happy that they were able to be a part of our big day!


Thanks again,
Melanie and Brendan