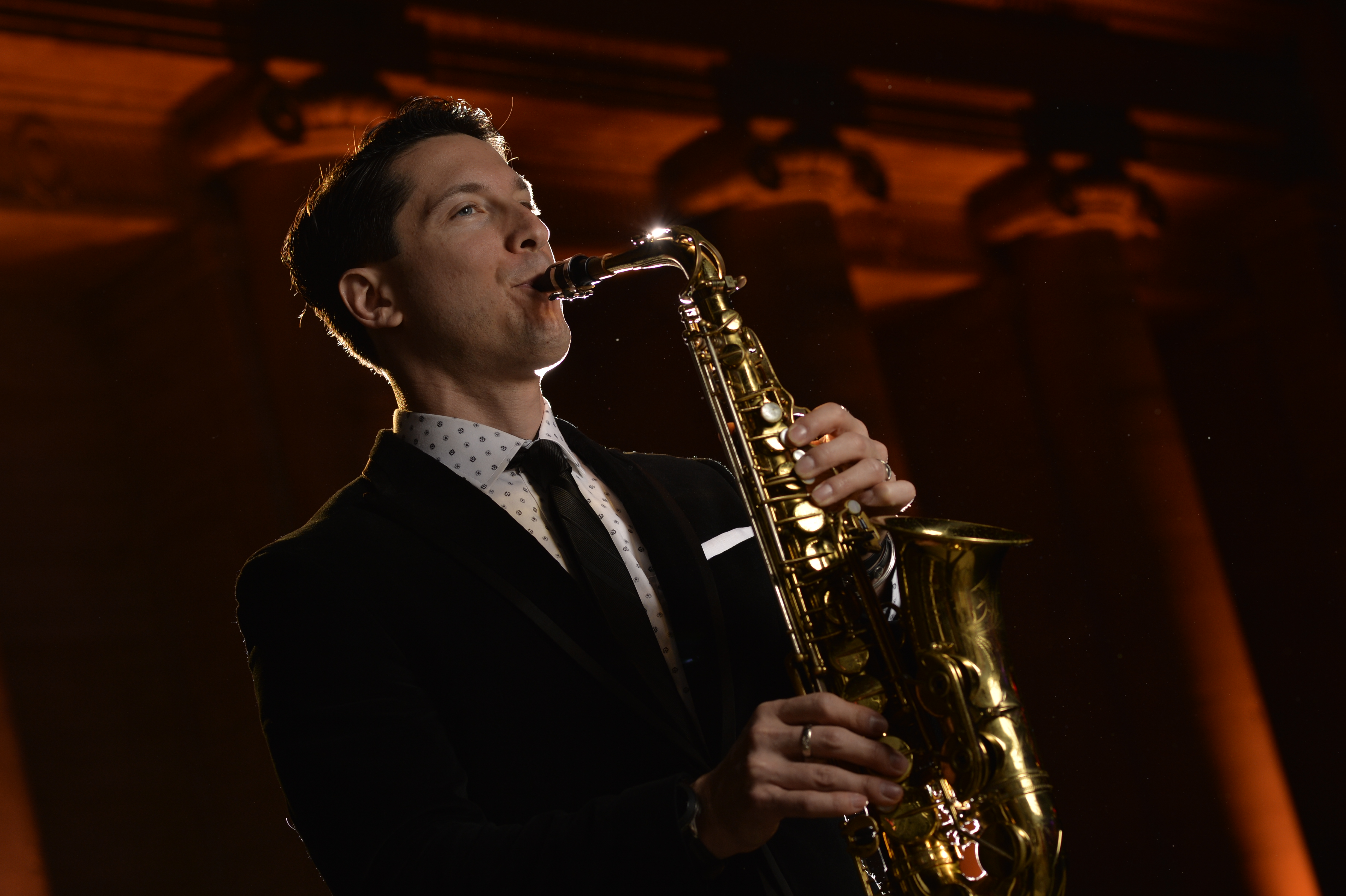 Lead by saxophonist/vocalist Jonny Hirsch, Brooklyn Sound is one of the latest, young, bands on the private party scene. A multi-dimensional front man, Jonny played shows and festivals up and down the east coast before joining up with the Hank Lane organization. While in high school, the singer/saxophonist started working for New York City's top promoter at the time, Delsener/Slater Productions, that is now Live Nation. This experience allowed Jonny to work at live events backstage at Jones Beach Theater, Roseland Ballroom, and Madison Square Garden for performers including Madonna, Van Halen and Lenny Kravitz, while spending his daytime hours in the corporate office assisting the production and promotion of live events. By the time he was a senior at The George Washington University, he had played on almost every big stage in Washington DC, including a invited performance at one of the Presidential Inauguration Balls.
"Brooklyn Sound is an all-star band with Jonny leading the charge," says percussionist Anthony Almonte. "I think Jonny's popularity is growing because they love the songs, the tightness of the band, and the energy we bring to the stage each show."
Reviews
Dear Jonny,
As I am settling back into reality today, I wanted to first and foremost say thank you to you and the rest of your incredible band for making Saturday evening the most memorable night of our lives. I cannot begin to tell you how many people came up to me saying that your band was the best band they've ever seen at a wedding. There were people dancing who have not gotten up to dance at a wedding in decades!! I will be recommending Brooklyn Sound for many years to come.
You were so accommodating and thoughtful to make sure that the night ran exactly the way it was meant to run. I apologize if you guys didn't have enough breaks - people could not stay away from the dance floor!!
Please keep in touch if you make it down to Baltimore/DC for any shows. Chris and I would love to come see you all again!!
I hope you have a very happy and healthy rest of the holiday season. Please pass this message along with the rest of the band members as well!
Best regards,
Molly
---
Hi, Kim
I wanted to let you know how thrilled we were with Brooklyn Sound. They really set the tone for the reception and had the crowd up and going right from the start. Johnny was put on this earth to be a bandleader and could not have been easier to deal with was very accommodating. A number of people said to me that they thought they were at a concert. We are so happy that this talented group of people were able to contribute to this special day in our lives and truly made it memorable.
Susie and I will recommend them every chance we have.
Kind regards,
Tim
---
Hello from Positano! Jonny,
Words cannot describe how incredible you and the band were. It WAS everything we hoped for and more. Over exceeded our expectations and we loved every single minute of it - as did our guests. They couldn't stop talking about it. It was probably obvious (haha) but I loved performing with you guys as well. Just incredible. We will be forever recommending you guys to anyone we know who needs a band! Thank you for making the night so perfect.
Hope to see you guys at another party/wedding soon.
Best,
Noah and Brittany
---
Hi Kim and Stephanie -
Hope you are both enjoying your summer! Kyle and I are finally settling back into our normal life following our wedding and honeymoon in early June.  We just wanted to send you both a quick email to let you know that Jonny and Brooklyn Sound did an absolutely incredible job with our wedding.  Throughout the night, and in the weeks since our reception, we have had so many friends and family members tell us that we had the *best* wedding dance floor they had ever experienced.  That's entirely thanks to the energy and talent that Jonny and the other band members brought to our event.  We are so grateful for their work to make our night truly magical!
After having spent the last 13 months of my life making thousands of decisions about wedding details, I can tell you that one of the single best decisions we made the entire process was booking Brooklyn Sound through Hank Lane. I just wanted to be sure that we shared that sentiment with you.  Can you also please share our thoughts and our thanks with the band?
In the coming weeks, as we wind down with all the post-wedding wrap-up, we will also be sure to post an online review on Wedding Wire and/or The Knot.  Thanks again for all your help in selecting Brooklyn Sound and planning our ceremony, cocktail, and reception music!
Best,
Melissa McGinnis
---
Brooklyn Sound is AMAZING!!! Jonny knew exactly the kind of music we wanted and definitely exceeded all expectations! The entire band had SO much energy, interactive on the dance floor and kept all of our friends and family dancing all night long. Thank you for making our wedding the most spectacular night!!
As reviewed on theknot.com