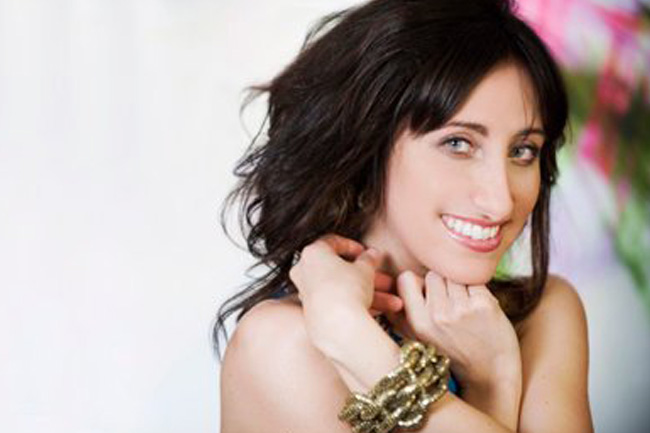 Toronto born singer Clara Jordan and her band is one of the most recent band signings to Hank Lane in New Jersey. Clara began singing in a local community church. Realizing her abilities for harmonies and composing at an early age, Clara continued to study and perform music throughout her formative and high school years before accepting a scholarship at the prestigious Berklee College of Music in Boston. A singer and songwriter who has performed with her band throughout the world, Clara is the winner of six Toronto Music Awards and has had numerous nominations in both the U.S. and Canada. She has also been awarded first place, triumphing over 300 bands, during Toronto's Indie week, a competition to find the city's best unsigned talent.
Reviews
Hi Danielle and Russ!
I just wanted to thank you and the team- the band was AMAZING!!!
We loved Clara Jordan and the band...they were fabulous!! All the guests were SO excited and are of course still talking about it ;) Clara was so great about making sure they were doing exactly what we wanted and definitely catered to the mood of the crowd.
Thanks for all of your help, obviously Hank Lane is a phenomenal company and hopefully you'll gain some business from my guests who will plan their weddings/events in the future.
Thanks again, I'm thrilled I chose Hank Lane!!!
Best regards,
Subuhee Hussain
---
My Husband and I got married on November 21st, 2015. We are huge music lovers and we knew we would be picky when it came to selecting a band for our wedding. We are more than happy to say that our overall experience at Hank Lane and with the Clara Jordan Band exceeded all of our expectations! We were so nervous for some of the newer music to be played by a live band, but the band played it great and it sounded just like the radio version. Clara Jordan Band definitely brought such professionalism and experience to the night, along with such high energy! We would definitely recommend the band!
Thank you for all at Hank Lane who helped us along the way! Stephanie, you were a great help and thanks for dealing with all of our questions.
-Casey & Cody
---
Hi Ian,
We can't not begin to thank you enough for helping us select the Clara Jordan Band for our Wedding. Clara and her band basically broke the dance floor!! They got each guest up and dancing and even kept Evelyn and I on the dance floor the whole night. The band even pleased the crowd with an encore after they chanted "one more song!" when the night was over. Thank you for everything you did for us and we hope to work with Hank Lane in the future!!
-Pete
---
Clara,
First off, I would like to say Kevin and I are still receiving calls from our guests raving about your band!! From the ceremony music until the very last song of the night you had everyone up on their feet, even our parents! The talent was top notch and you played all of the music we love and really mixed it up to cater to everyone. You were such a pleasure during our final meeting and really made us feel comfortable and confident in our music selection. You helped make our dream wedding come to life!! THANK YOU! I hope all my friends and family book you in the future so we can rock out with you and your band once more!
Thank you again!!
Erika & Kevin
---
My Wife and I booked the Clara Jordan Band and it was the best decision we ever made!! Everyone is right when they say that the music is the most important factor of the night!! Our guests are still calling us even 2 weeks after our Wedding. Clara, you will be receiving a lot of inquiries!! Even the ensemble at our cocktail hour was even phenomenal and played all the music we selected. It really created the jazzy vibe we were going for. The band was so energetic and we loved the interaction between your singers and our guests, the energy was contagious. I wish we could do it all over again!!! Thank you for helping make our night something we will never forget! It was so memorable, we can't wait to watch the video for the next upcoming years!!
HANK LANE ROCKS!
Best,
Ian and Victoria
---
We hired Clara Jordan Band for our November 18th wedding, and simply but they were incredible. We've had so many friends and family tell us how amazing the band was, and how much fun they had because of it. They kept our guests dancing all night long and played everything we requested effortlessly. We ended the night with an epic rendition of shout which was the perfect way to end the most fun day ever.
As reviewed on theknot.com
---
Clara Jordan Band was phenomenal!! Everyone was raving about the band at our reception. They had the dance floor packed the whole time and really knew how to work the crowd to keep everyone moving. Clara was amazing, I can't say enough good things about her. I would highly recommend Hank Lane Music-they have a band for everyone and will work within your budget to get the best choice for your wedding day. They were worth every penny!!
As reviewed on theknot.com
---
The Clara Jordan Band was hands down, the most amazing ever!! Everyone was absolutely amazing at Hank Lane. From our first meeting with Ian, to my correspondence with Stephanie, to finally meeting Clara. I felt that they were always on the same page with our guests and my husband and I. There were some major storms in our area throughout the week. Our beautiful venue did not skip a beat and was running on generators. None of out guests would have guessed that they didn't have power. However, I had a minor meltdown when the generator failed right before our formal introductions. Clara was in the middle of going over names and the power shut off. She remained calm, cool and collected. Her energy allowed me to remain calm. And the band just started playing very loudly to mask the power outage. Even though it was for only a couple of minutes, Clara and her band's level of professionalism was truly astonishing. The Clara Jordan band interacted with guests, played appropriate music based on the timing of the night and even played my husband and my favorite song "This Must Be the Place" by The Talking Heads. I will never forget the energy and positivity in the room with Clara's band being the catalyst for it all. All of the singers and band members were absolutely AMAZING!! We had guests coming up to us all night and afterwards raving about this band. Thank you Hank Lane and Clara for adding to the best day of our lives--I didn't want it to end!
As reviewed on theknot.com