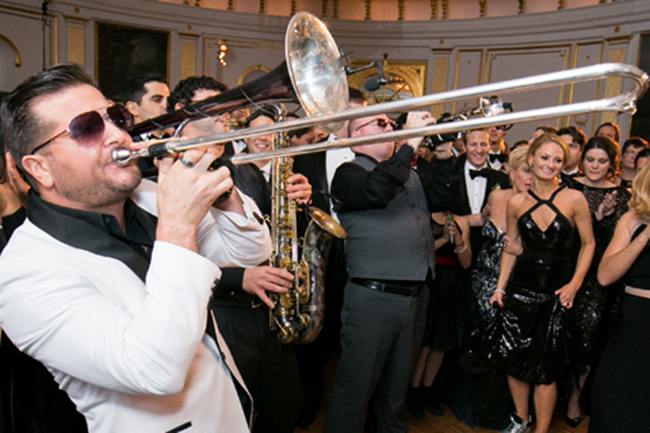 Producer, performer, and bandleader Dylan Matthews began his musical journey as just a boy. His father Rudy was a professional trumpet player, which allowed Dylan to be exposed to the rich, brassy sounds of the greatest funk and rock horn bands of the world. Musically, Dylan is influenced by Tower of Power, James Brown, Earth Wind & Fire, and Chicago. Dylan Matthews has orchestrated performances nationwide, produced horn sections on countless albums, and has shared the stage with world renowned musicians such as Columbia recording artist Kyle Jason, Billy Joel, Frankie Valli, and the legendary Chuck D of Public Enemy. His band mixes the funk and power of an old school horn band, while twisting it in with the hottest tracks of the 80's, 90's and today. Dylan admits his favorite part of an evening's performance is watching everyone's eyes LIGHT UP in excitement as he sneaks in a tune or two in which he calls "The Forgotten Classics".
Reviews
Dylan,
We cannot even begin to thank you guys for last night - it was absolutely amazing. Everyone involved was incredible... I've never seen so many people on a dance floor at a wedding! Every guest loved you guys - it really made the wedding so so special.
We know it's not required but would really like to send you guys a tip - can I send directly to you or what's the best way to go about doing that?
Thanks again for everything. You all were fantastic!!!
Jaclyn & Colin
---
Hi Dylan,
Sorry for the delay in writing but we are now settled in France and have some sleep under our belts.
Sunday night was incredible!!! Your band is amazing! The voices of your singers, the horn section, and the song choices were nothing less than perfection! It was everything we wanted - like you and I discussed - and more.
Multiple guests told me it was the best band they have ever seen - even one of my friends who used another Hank Lane Band for her wedding is February said that. Emails asking for the name of the band have been pouring in.
Thank you so much for throwing the best dance party and for making the night flow so smoothly. And thanks for putting up with me and my particularities and dozens of emails to you. I think they all paid off!
Hope you had a great 4th. I hope we get to see you again at another affair! If we can write a review, we would love to! Let us know!
Love,
Alissa and David
---
Hi Allie,
I just wanted to send a note to you about how amazing Dylan Matthews Band was at the wedding. They were out of this world fantastic. We couldn't have been happier with every single thing they did from the first dance to just killing it with every song. Dylan was phenomenally helpful and checked in with us multiple times during the event.
We would highly recommend them to anyone and would be more than happy to be a reference for them moving forward.
Best,
Jeff
---
Dylan,
Words cannot convey my appreciation. You KILLED IT!! The band exceeded my expectations by miles and miles and my expectations were high. Thank you for everything you and your team did to make the party something no one will ever forget. My guests' comments were consistently "the party was great and WOW the band was over the top." Amanda and Jason will have this memory forever thanks to you Gail and I are now you biggest fans. Can't wait to make another party and enjoy your talent again. Vicki, thanks for all you did. Tell Hank we couldn't be happier!
With deepest appreciation,
David & Gail
---
Kim,
Oh my god I have been meaning to email you.
Dylan literally KILLED IT. I have heard non-stop feedback from my guests about how amazing they were. Hands down one of the best choices we made throughout the whole process. They were just…beyond.
Thank you so much for your help and I hope I get to see you soon!!!
Lots of love!
Jill
---
Dear Dylan -
Wanted to thank you and your band for making our daughter's wedding "The Best Night Ever" .. You kept the energy going all night long ...
You never stopped playing music, and the dance floor was never empty .. Your orchestration of the musical variety was fabulous .. You made sure to encompass every musical style, and time period .. Your incorporation of the Horn segment was over the top .. The girl singers and male soloist who come out into the crowd just brought it all up a notch .. I passed your name on to many of the guests who also thought you were phenomenal...
So thanks again for the great night and hope to see you again soon ..
Sincerely,
Carole and Steve Rothman
---
Heyyyyyyyy Dylan!!!!
I know it's been close to 3 weeks now, but I have been so busy at work and now that I finally have the day off, I have a free moment to write this email that I've been wanting to write since October 25th! =)
Jason and I (and my parents) want to thank you for making our special day so spectacular. I knew from the moment I saw your video at the Hank Lane office that your band was fabulous and I wanted you to play at my wedding. Your horn playing, and the others, is so awesome and definitely an attention-grabber. It was all my guests were talking about the next day and still are.
Dylan- you made my experience not only easy and relaxing, but also enjoyable. You are so friendly and personable and I enjoyed all of our encounters together, whether in person or on the phone.
Most importantly, thank you for working with me and agreeing to play ALL the songs I wanted for my ceremony. I know you normally don't do that, so it was much appreciated. I can't wait to see the video!!=)
In short, THANKS FOR EVERYTHING Dylan!!!! I hope our paths cross again in the future so I can dance the night away (again). Take care.
Always,
Maxxe
---
Dear Harlan,
I wanted to give you a very special thank you for connecting us with Dylan Matthews Band. Dylan himself was great, and they really were the perfect band for Lily's wedding. I admire your instinct and understanding of what we wanted and what worked for us. It made a huge difference and delivered an absolutely fabulous, energized party. We have received a number of emails gushing about the band. Fantastic performers, they had great chemistry amongst themselves and their whole manner was charming and appealing. They read the crowd extremely well and it was just such incredible fun and good times.
Thank you so so much.
Best regards,
Liz Oliver
---
Dylan! Dylan! Dylan!
Words cannot explain how amazing our Vow Renewal was!
One of the best decisions Mike and I made during the wedding planning process was choosing the Dylan Matthews Band for our BIG DAY. You and your team were awesome! Your vocalist made our Wedding Song more than it could have ever been and the band made every other detail we envisioned come to life. All of our friends and family raved that hands down the Dylan Matthews Band was the best band they had ever heard. It was non-stop dancing all night! We are dying to see and hear the video.
THANK YOU! THANK YOU! THANK YOU!
We were in Turks and Caicos and the hotel was experiencing Wi-fi issues so this email would have come much sooner if it was possible. We thank you tremendously for being part of our spectacular night!
Claudia and Michael
XOXO
---
Hi Kim,
I just wanted to thank you so much for recommending Dylan Matthews Band for our wedding this past Saturday. They were absolutely amazing! I can't tell you how many people came up to us throughout the night to say "BEST BAND!" They played such a wide variety of music, and had everyone dancing like crazy the entire night. No one wanted them to stop, and even started chanting "one more song" at the end of the wedding. Dylan was such a pleasure to work with, and kept checking in with us throughout the night to make sure that everything was okay. They 100% made our wedding, and I would recommend them to everyone!
Thank you again!
---
Harlan,
The Dylan Matthews Band was the BEST! They kept our guests on the dancefloor all night long, played our requests, and kept everyone having a great time!
As reviewed on theknot.com