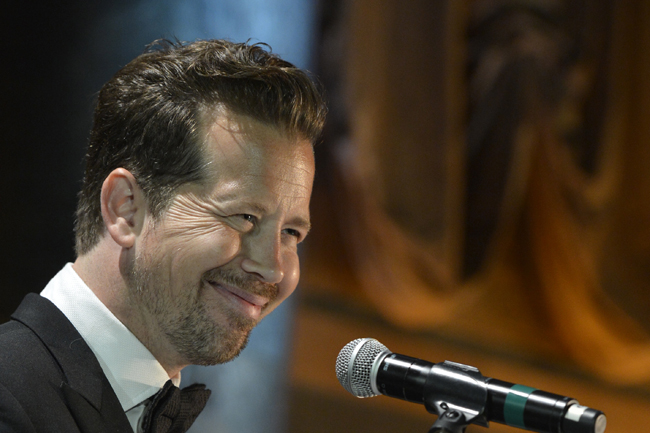 There isn't a task that Erik Marshall hasn't successfully tackled, either as a musician and bandleader, or on the business side at Hank Lane Music. Along the way, he's had virtually every job in the company.
Erik began working for Hank Lane at parties on the weekends while in his teens. Not long after, he took on various support roles in the office part-time while in college. With this experience under his belt, he began to realize that he could make a definite career with the company. Erik then turned his attention to the band stand as a trombonist and keyboard player, joining some of the more established bands and performing at weddings and parties the New York metro area's top hotels, country clubs, and catering facilities.
Today, Erik's approach to leading a party is very simple. As both the leader of the Erik Marshall Band and a partner at Hank Lane Music, Erik understands what particular songs, sequencing, and tempos keep dancers going. "Reading the crowd is key," says Erik. "I learned from the best how to create a great live mix on the spot. Nothing makes me happier than to see the dance floor packed, and guests screaming for more at the end of the night."
Reviews
Hi Erik-
Hope you have not forgotten about us!
Now that the dust (and glitter) have cleared, we wanted to thank you from the bottom of our hearts for bringing your incredible talent and amazing sound to our wedding.
I can't tell you how many guests were raving about how absolutely incredible the music was all night long. Friends are ours who are not married yet have already said that they need you at their wedding.
And on a personal level, crowd-surfing in that great room surrounded my so many of our closest friends and loved ones was a totally peak experience.
You're all so incredibly talented, and we can't thank you enough for helping to bring our big day to the next level.
Thanks again,
Lexie and Jon
---
Hi Stephanie,
Erik and his band made me a hero. Delisi came through with such a great surprise, adding Rock of Ages star to the finale. Fusion killed it with the lighting. The sound was awesome. The atmosphere was beyond the best most people at this event had ever seen. Erik's energy is infectious. Each band mate is more talented than next. Compliments come from the old and the young. Total class and perfection. Hank Lane, Steve Delisi, Erik Marshall and the entire operation stand alone at the top of delivering premier quality entertainment. Period end of report. What a pleasure and great feeling it is for me to have given them as a gift to all 250 of my guests. There wasn't a person who didn't come up to me and ask "how did you get this band?" "They are better than the actual artists who originated the songs". The smiles on their faces all night long was because they had the band of their lifetime and they knew it and they weren't going to do anything but take full advantage of it.
He is now in Stevie D's category..part of the family!
Best,
Peter
---
Dear Stephanie,
Please pass along this message to Erik and the rest of the band. We have never seen such an incredible wedding band before in our lives and we have been to a lot of weddings!! Their energy, voices, talent and song choices were PERFECTION! We have had countless guests who were awe inspired by their performance and we can tell they aren't just saying it because we are the hosts. We have welts on the bottom of our feet from dancing so hard.
THANK YOU THANK YOU THANK YOU!!
All the best,
Alison and Jason
---
Erik,
Thank you so much for Saturday! The band was AWESOME. Everyone is raving how they've never been to a wedding where people danced from the first song to the last song. That is exactly what I wanted!
It was a pleasure working with you.
Thank you again Erik!!
Meredith and John, and Mika haha
Dear Hal
No words describing how UNBELIEVABLE FANTASTIC OUTSTANDING Erik and the band were Saturday night at Ross and Samantha's wedding.
That dance floor was overflowing all night and nobody wanted to leave!
Also loved the musicians during ceremony and cocktails.
Thank you so much for all your help –I truly appreciate it and so glad we decided to come back to Hank Lane!
Hope all is well and many thanks again!
Wendy
---
Hi Erik,
Thank you so much for making our wedding the best night of our lives! Everyone cannot stop talking about how amazing the band was and we're thrilled that the dance floor was full the entire night!
Choosing your band was the easiest decision of wedding planning and we couldn't be happier with our choice. We will absolutely be recommending you to anyone we know planning a wedding here.
Thanks again,
Jen & Bernie
---
Erik-
We are a bit tired right now but never too tired to thank you and your band for making last night a smashing success. We were told countless times that you were the best band that people had heard… and this was a pretty sophisticated crowd. By all accounts, the wedding was among the best people ever attended, and you were a core reason. Thanks again and speak soon.
Laurie and Jeff
---
Erik-
We just wanted to thank you for making our night so incredible magical!
It was awesome! As you know, we danced the entire night (as did our
friends :)). It was the most incredible dance party. We had the best
time. Thank you so much again!
All the best,
Michelle and Adam
---
Hi Erik,
I just wanted to thank you for the absolutely amazing job you did at Jennifer's and Mike's wedding last Sunday at The Pierre. The band was incredible and your performance was even beyond my expectations.
We all had the best time and as you saw, the dance floor was packed at all times!
THANK YOU!!!!!! so much. The music really did make the party!!!!!
Joan
---
Hi Kim / Stephanie,             
Ashley and I just wanted to take a moment to thank you and the awesome Hank Lane team and particularly Erik Marshall Band for making our wedding absolutely incredible. The entire experience surpassed even our loftiest expectations and we truly had the most remarkable time this past weekend, thanks in vererik marshall 1y large part to the amazing performance of the Erik Marshall Band.
Erik Marshall Band literally rocked the castle and had the dance floor jam packed from beginning to end. Ashley and I never danced so hard or had as much fun as we did partying to the music on Saturday night. Our family and friends literally danced the night away to the point where they were all hurting the next day. In fact, Ashley's stepdad's calves were so sore from all his dancing, he was basically immobile on Sunday – that's how much he partied and loved dancing to the awesome music of the night. And the same can be said of my mom who had trouble walking the next day, as she can't remember a night where she danced for as long or as hard as she did the night of the wedding… and she is not a partier, but Erik Marshall Band kept her on her feet!
Everything we had hoped for and imagined at our wedding came true, and we were most focused on the music and making sure our guests had a fun night. And our guests absolutely raved about Erik Marshall Band and I cannot even tell you how many inquiries we've received from friends and families since the wedding asking who the band was. The resounding response from everyone at the wedding, even from our most difficult, discerning guests who never seem pleased, was that Erik Marshall Band was the absolute best band they have ever heard.
Derek and Chandler came out on the floor at times and rocked Journey, to the point where Ashley even grabbed the mic and started singing. I ended up on stage at the end jamming to Eddie Money. And the list goes on and on for all the wonderful memories we collected that night. Erik Marshall himself was very hands on, checking in with us before about what we do when we hit the dance floor after our entrance. He also checked in periodically later about the specific folks who were giving speeches so as to map out the night and schedule of music. Professional, classy, talented and just outright awesome … that's our view of the Erik Marshall Band and our entire experience with you both and the Hank Lane team.
It really meant everything to us to have you and your team, and ultimately Erik Marshall Band, as part of our wedding, so from the very bottom of our hearts, thanks again for really making our wedding night the most magical and unforgettable night of our lives.
All the best,
Eric & Ashley
---
Hank Lane made our beautiful wedding day the best day of our lives! Music was one of the most important aspects in wedding planning for my (now) husband and me and we knew that the Erik Marshall band was absolutely incredible from positive experiences at other weddings. What we weren't prepared for was how helpful Erik Marshall would be in choosing our music (and there's a TON of music you need to pick for all of the intricate parts of the ceremony and reception) to make the music playing during our wedding "feel" like us, as well as get everyone on their feet to dance. On the day of the wedding, we were COMPLETELY blown away - we (and all of our guests) felt like we were privy to an incredible one-in-a-lifetime concert that lasted for 5 hours. Our family and friends have been raving nonstop about our band since the wedding, which was almost a month ago. I barely left the dance floor the entire night and couldn't have been happier. Thank you SO much Hank Lane! Xx
As reviewed on theknot.com