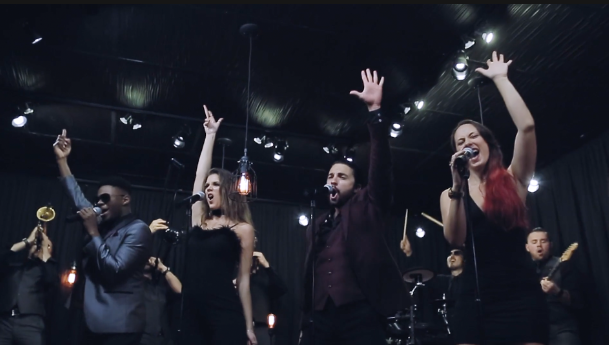 Ignition is compiled of the finest musicians New York has to offer. Featuring talent that has shared the stage with some of the world's most explosive acts, Ignition generates the spark that turns a great party into a once-in-a-lifetime event.
Beyond their formidable talents, Ignition is renowned for their versatility. From epic rock and hip-hop anthems, to crooner standards and pop super-hits of today, the members of Ignition have a unique appreciation of every genre of music, and the sway each one has over their audience, that runs deep and true. 
Like an artist facing its canvas, the band possesses the unrivaled ability to look into a crowd, understand it's energetic needs, and execute with fresh, mind-blowing arrangements and stunning choreography. 
Ignition carries years of experience tearing up concerts, weddings and corporate performances, creating moments that instantly sear themselves into the memories of anyone lucky enough to be caught in the fallout.
Fire up your event with Ignition.
To See Videos on the Ignition band, Schedule an Appointment Today!
Ignition Band Reviews
Ignition Wedding Band Review: "They crushed it!"
We had Ignition at our June 22 wedding. They were the best decision we made for our wedding night. They crushed it! We and all our guests had soo much fun with them. All night we heard from our guests "who is the band they're awesome I love them." Do not hesitant to book Ignition and be ready to dance all night.
Review on The Knot 8/29/22
---
Ignition Wedding Band Review: "Best wedding band in history"
Oh my god. We can't thank you enough for being what may be the best wedding band in history. We were completely floored by how talented you all are--the compliments from our guests keep coming in! The song selection, energy, care, professionalism...everything was beyond top-notch and exceeded our highest expectations. Please let all the band members know how absolutely outstanding they were and how unbelievably grateful we are for every minute of artistry and fun they provided us! Please also let me know where it would be best for us to leave online reviews--we'd be honored to! 

 
Ignition Wedding Band Review: "A remarkable band"
 

Ignition, a remarkable band/vocalists from Hank Lane just performed at our Son's Wedding. They are extremely professional in their musical and vocal abilities, and can play expertly a song from any decade. Their talent and infectious quality kept everyone of all ages on the dance floor the entire evening. If you want the highest quality at your event, you would never find an equal experience than Ignition at Hank Lane Music.

 

Review on the Knot 9/20/21
---
Ignition Wedding Band Review: "Everything was perfect!"
 

We're sitting in the airport about to head out to our honeymoon, but wanted to send you a quick email to say thank you to the Ignition band.  We couldn't have been happier with how everything went. It's unbelievable how many compliments we received about the music... for both the ceremony and the reception.  We've also had a bunch of people asking about hiring you to play at their wedding because they had so much fun.  Everything was perfect and we can't thank you enough!

 

Review by Paul and Liz R. from New York, NY
---
Ignition Wedding Band Review: "Incredible!"
I just wanted to send you a little note thanking you and Ignition for playing at our wedding. You truly made our wedding amazing and I could never picture the night without you guys. My guests were so impressed with how incredible you sounded, and just how much fun we all had. Thank you for making the night so special for Chris and I. We love you guys and can't wait to see you play at our friend Tommy's wedding in July!

 

Review by Danielle M. from Greenwich, CT
---
Ignition Wedding Band Review: "Our friends and family have not stopped raving!"
Dear Allie and Morgan:

Thank you so so much again for EVERYTHING.  Our friends and family have not stopped raving about Ignition.  They went above and beyond and were so incredibly dynamic and engaging.  The most special moment of the night was when Dave's brother got on stage and plugged in his guitar for DJ Khaled!  We died!  Thank you so much for helping to arrange and coordinate and for helping us select the most perfect band for the most perfect night of our lives!

 

Paige and Dave Reinhold
---
Ignition Wedding Band Review: "Ignition was SICK and our wedding was perfection!"
OMG HARLAN!!!! What can we say - Ignition was SICK and our wedding was perfection!! We cannot thank you enough for all of your help and guidance thru our band selection process - they were everything we could have wanted and more.

 

xoxo Evie and Wyatt
---
Ignition Wedding Band Review: "Amazing!"
Met with Spencer - told him the type of music we liked and immediately he said IGNITION is the band for you... but being skeptics, we searched through several other HL bands, as well as several other agencies and independent bands... but in the end he was right.. we went with Ignition and couldn't have been happier.

We were skeptical because we couldn't find many reviews but our call with the band leader and Brian (mgr) leading up to the event put us at ease and we got so many compliments after the wedding about the band. We had a feeling the band would be a hit but we could not have imagined how many people complimented the band. My cousin who is getting married next year has already asked me for their contact info to try and book them for her wedding.

Really, their talent & song choices got everyone on the dance floor and their enthusiasm was amazing. They were able to play to the crowd and even got in the songs we really wanted. They learned a new song for our first dance and it really sounded better than the original. We can't thank HL enough for an amazing night, y'all brought the party!

 

Warren
---
Ignition Wedding Band Review on WeddingWire.com: "The BEST!"
Ignition Band is the BEST!

We had Ignition from Hank Lane play at our wedding. So many of our guests still can't stop raving about them. They played a wide range of music and kept the party going the entire night. We can't stop watching videos of them playing