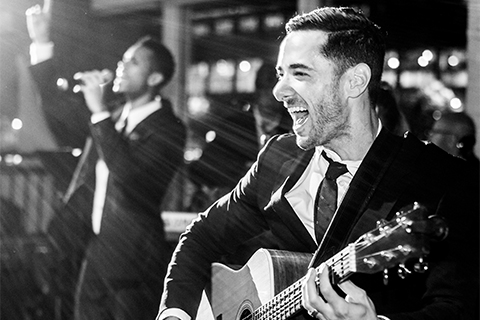 Marcus Reid is an exciting and charismatic front man, lead singer, guitarist and pianist who began performing at the ag of 14. With a B.F.A. in Music from Purchase College Conservatory of Music, Marcus has been a bandleader now for over 15 years performing up and down the East Coast with his band. Marcus has appeared on Broadway in Rock of Ages and Off-Broadway in Rock-The Musical. He has opened for headline acts including for Gavin DeGraw, Regina Spektor and Sara Barielles. In Atlantic City, he has headlined at both the Borgata and the new Revel casino. With musical influences as diverse as Bono, Mick Jagger, The Beatles, The Police, Kings of Leon, Coldplay, Jimmy Hendrix and Queen's Freddie Mercury, Marcus and his band play a wide range of styles including Rock, Pop, Dance, Blues, Singer/Songwriter, 1980s and 1990s.
Reviews
Hi Marcus!

Thank you so much to you and to your band for making our wedding so much fun! Every single friend and family member commented on how awesome you all were. We had such a fun night and we are so grateful to how much effort you all put in to making it that way. You and your band are not just incredibly talented, but it's clear you love what you do and have fun doing it.
I'm hoping someone took videos of our first dance and asking around, but wanted to tell you that you sang the song so beautifully, and the woman who sang Try To Remember was also incredible. I mean, I can go on and on and on….
I know reviews are helpful etc., but we really wanted to thank you all personally for making our wedding as fun as you did and for playing such awesome music. You guys are really the best and we hope to see you again at some of our friend's weddings!! I know our friends tried to book you for November 20th, but you were already booked, and I think our friends are hoping to book your band for next March at The Pierre.
Italy was AWESOME so please email me if you plan to go because I will happily help plan your trip, and pleeeease let us know if your band is playing a gig because I can now guarantee you all of our wedding guests who live in New York to come!


Thank you thank you thank you!


All our love and appreciation,
Samantha and Andrew
---
Hey Marcus!

Hope you had a really great weekend. Steph and I just got back from our honeymoon in Hawaii and had an amazing time. We are sending formal "thank you" notes out to everyone, but we just couldn't wait to reach out to you personally…..

We had such an amazing time on our wedding night and we are still completely buzzing. One of the biggest reasons for that feeling is the absolutely epic performance that you and your band put together. Because we met with you, listened to your sample music, and watched your video, we knew that we were in for a special treat. However, what we were not prepared for was how above and beyond you and your band went.

You guys made the wedding. The energy, music, and overall performance far exceeded any expectation and blew us both out of the water. It is a night we will cherish forever and it is in large part thanks to you. I can't tell you how many people came up to us after the wedding, called, text and told us how amazing your band was and how much you guys made it a special evening to remember.

With all that said, we just want to say THANK YOU from the bottom of our hearts. Please let us know where we can write a review so we can help spread the word. We've already had a number of our guests ask for your band name, etc.

I hope that we can keep in touch going forward, and if there's anything you ever need from us, please don't be a stranger.


We wish you all of the best with all the great things that you have coming up in life, and hope to see you again!


All the best,
Greg and Steph
---
Marcus,
Thank you so much! I can't tell you how many people have complimented me on the band! Every transition, song, and even dealing with ALL of my requests - you made it perfect! Just know I (and all the guests) will be recommending you left and right to all my friends getting married (in fact, a person at the wedding yesterday has a friend getting married and has already given your name!). Thank you!


Ashley
---
Marcus Reid Band of Hank Lane was incredible. Literally every single moment of the night people were dancing. I've already had three people ask me for my band's name so they can use them at their weddings! Thank you Marcus; we had so much fun. The memories of my family, friends, husband and me singing and dancing all night will forever be ingrained in my memory.

As reviewed on theknot.com