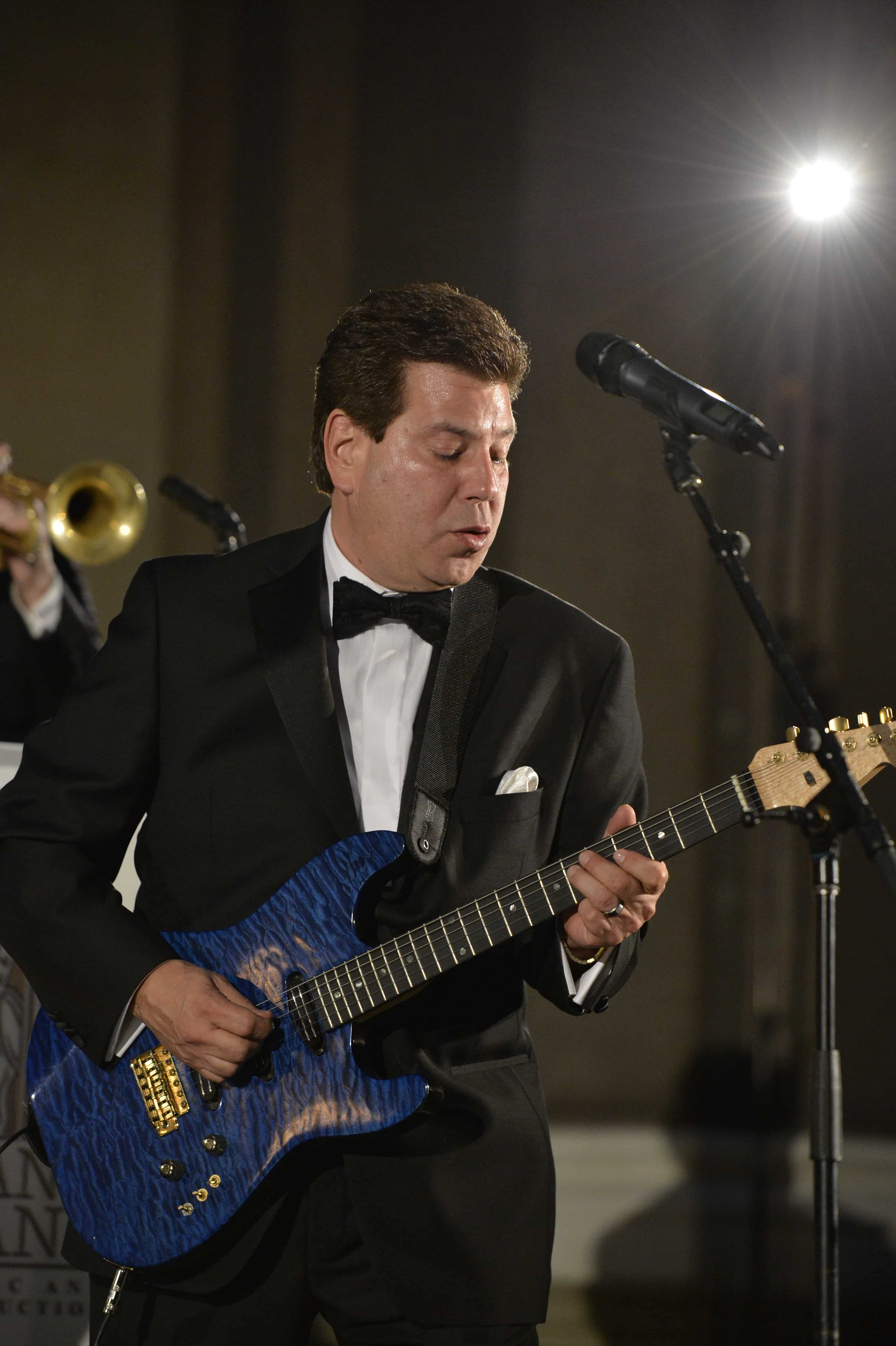 A native of Queens, NY, Mike began playing music at the age of 11, after his father rented him a guitar. After playing in several local rock bands in high school, he embarked on a professional career. In the 1970's Michael formed a band called Excalibur which toured the U.S. and Canada performing in hotels, resorts and nightclubs for two years.
Upon returning to New York, Michael settled into playing with a small group at a Manhattan hotel. As fate would have it, a pianist who worked for Hank Lane music was working there as well. He told Hank to come and check out Mike's band, and he soon joined the company. In 1985, just one year later, Michael formed his own band, became a partner in the company, and quickly established himself as one of the top bands in the business.
Michael has performed for President Bill Clinton, President George W. Bush, Cardinal John O'Connor's 80th birthday, the New York Philharmonic, the New York City Ballet, Deloitte & Touche, Paine Webber, J.P. Morgan and the Juvenile Diabetes Association.
Reviews
Mike—
We cannot thank you enough for what was a magical night at our daughter's wedding….and the Mike Herman band made the entire night. The music was spectacular throughout the entire evening….from the cocktail party to the entire four hour reception….and with no breaks! I have never heard a classier band with tighter music, outstanding vocalists, perfect song selection (old and new), and an energy that was contagious throughout the room. It was a truly professional, first-class performance, from the sound of the music to the "look" and personality of the each band members. The biggest question of the night was "Where did you find this band?...they're much too good to be from Florida.""
On a personal note, many thanks to you for always being available throughout the planning process and taking calls from our daughter leading up to the wedding. You were also the perfect "MC" for the wedding. It is clear that you take great pride in the band, and your attention to detail, your service-oriented manner, and of course your incredible talent made this a truly special evening for all.
Thanks again Mike….you 'da man
---
Mike -
Lindsey and I just got back from the honeymoon which was the perfect amount of time to digest how much of an impact your INCREDIBLE performance made on the entire wedding. It is hard to put into words how much we appreciated you and the band at the wedding. We both cannot get over how much of a positive impact you and the band had on that night – the dance floor was always packed! You were without a doubt the best band we could have hope for: music selection was always on-point, you all looked great, and of course sounded fantastic. We could not recommend you enough to everyone that has been reaching out asking who you were and how to get in touch. Outside of the band, you personally were instrumental in "MC-ing" the night and keeping everything on time and providing perfect transitions into dances, speeches, and pictures. Lindsey and I keep saying how effortless the night was for us because we had you orchestrating the schedule. We cannot thank you enough for taking the wedding to a new level of awesome. Please do not hesitate to reach out if you ever need a recommendation, we have only the best things to say!
Thanks again for everything Mike!
---
The Mike Herman band is unbelievable! They never stopped playing and the dance floor was never empty. The only complaint we had from guests was that they were sweating from dancing too much! Mike and the Hank Lane staff were so easy to work with. They are true professionals and entertainers. The band is based out of New York but they traveled to Old Lyme, CT for our wedding.

As reviewed on theknot.com
---
Hi Mike,
Last Saturday night was amazing.
First of all, thank you and thanks to your band for learning Take Your Mama Out. My mom and I were so relieved that you played it at the same tempo that we rehearsed! Because you all did such a good job, we were able to do our mother and son dance - thank you.
Secondly, if the chants of "one more song" weren't clear, our guests loved you guys. Several people came up to me during the wedding to say you were the best wedding band they had ever heard. Mel's biggest fear (really) was that people wouldn't dance, but people couldn't help but dance when they heard your music. It also was great for them to sing along with Robyn and Prince and all the other favorites for this group.
Much appreciation for making our wedding so much fun.