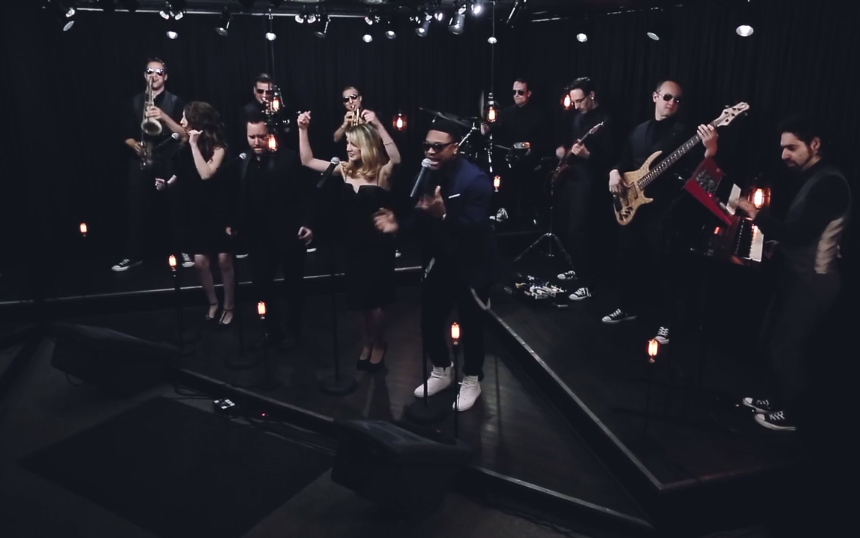 A fresh take on the classic party band, Nocturne has captured lightning in a bottle. Comprised of NYC's finest musicians -- many of whom have performed all over the world to great critical acclaim -- the band offers a stunning high-energy youthful approach, along with the professionalism, experience, and chemistry you'd expect from seasoned veterans.
Nocturne appreciates each client's individual needs and approaches every performance in a unique way; no two events are the same. They have a true gift for reading audiences; their song selection runs deep, allowing them to cater to and connect with guests young and old, assuring that every last one is musically satisfied.
Nocturne is celebrated for their "all-in" performances, working tirelessly to honor the original artists of the songs they perform. They deliver an authentic sound, as rich and vibrant as what you would hear on your CD player, radio, or iPod. For clients that want an even more unique experience, Nocturne offers an optional horn section that breathes new life into contemporary favorites.
Beyond the talent, beyond the professionalism, and beyond the inter-generational appeal is a group of musicians that simply love making music. They love playing together, and they love seeing people have a great time as a result of their hard work and dedication. "It's a love that comes through in their sound" says bandleader Megan…"A love that guests will feel and surrender to, the same kind of love that elevates the truly great above the mere good."
When you're looking to take your event to that elusive "next level," Nocturne offers the image, excitement, and adaptability that gets you there. The ULTIMATE live experience.
Reviews
"Nocturne was amazing! Our guests left wanting more. Some band members came on the dance floor and got the guests involved. It was great to act like we were all part of the performance. They really did a spectacular job. They were able to accommodate our special requests and really make the night memorable not only for me and my new husband but for all of the guests."
Review by Chris S. from Kingston, MA
---
"After listening to countless bands with my parents, we decided upon the Nocturnes and are so glad we did! They made the entire night effortless. Every song sounded amazing. They even let my dad come on stage to bass guitar with them to my surprise! At one point then had the horn section join the dance floor which was the BEST!! The crowd went wild! I am sad I don't get to work with them again but they are playing at my cousin's wedding in the spring so I get to see them play again! We are so appreciative of them making the trek down to SC and making our wedding feel like a concert. It was truly amazing!"
Review by Melissa C. from River Course, SC 
---
We had the Hank Lane band Nocturne for my son and daughter in laws wedding this past Saturday. The band rocked the dance floor and was amazing. They were instrumental in making our wedding a huge success. Lori was great to work and helped to guide us to this fabulous band!
As reviewed on theknot.com
---
We were lucky to have Nocturne play our wedding this past July. They absolutely made the party. Incredibly talented musicians that can read a room and bring non-stop jams one after the other with seamless transitions. They were interactive with the crowd and made it a party no one will forget. Every guest made a point to tell us just how much they loved the band. On top of it all, they were a pleasure to work and coordinate with. Don't hesitate, Nocturne is the band you want.
As Seen on WeddingWire.com
---
THE BEST BAND! I cannot say enough about Nocturne! Working with the band and coordinating all details was absolutely seamless, and tehy were phenomenal! Our guests are STILL talking about them. Their high energy and amazing voices kept our guests dancing all night. Hiring them for our wedding was the best decision we made.
Reviewed by Lauren
As Seen on WeddingWire.com
---
We hope you are doing well! It is so so great to hear from you! You and every member of Nocturne absolutely MADE our wedding day. So many family members/friends have been coming up to us saying that it was the best wedding they have ever been too because of the band. Our friends who have only ever been to DJ weddings were so impressed with all of the mashups and how you sang everything from Whitney Houston to Zach Brown Band to Nelly. You are all so incredibly talented and we cannot begin to thank you enough, you were the best vendor decision by far. If there is any place we can leave a review for you guys or anyone we can email to rave more about you please let us know.
All the best, 
Kerrin & Rob 
As seen on WeddingWire.com
---
My husband and I got married at the Knockdown Center in Maspeth, New York. It was the night of our lives much in part because of our band, Nocturne. We had 350 guests of varying ages, and every single one of them was on the dance floor the entire night. The band played one amazing song after the next - a great combination of top 40 and classics - and learned a couple tunes especially for us!

We opted to hire the extra horns section which was incredible! They got on the dance floor, interacted with guests and everyone had a ball. Their talent is incredible and their energy contagious.

They were extremely easy to work with and an all-around pleasure. I would absolutely recommend them.
Reviewed by Debbie
As Seen on WeddingWire.com     
---
Dear Nocturne,
Thank you so much for helping us and our guests dance the night away! You all are truly talented. Thanks for letting me rock it out on the drums! 
With love,
Samantha and Matthew
---
BOOK NOW! WOW WOW WOW. Nocturne made our wedding ROCK. My husband and I were torn between whether to book a band or a DJ. We were unsure if a band could play all of the songs we wanted. We met with Allie at Hank Lane who showed us a video of Nocturne performing and we were blown away. We knew this would be the "it" factor for our wedding. Well let us tell you, they were that and so much more. Frank from Nocturne took the time to speak with us on the phone before the wedding to find out all of our music suggestions and he offered great advice on areas we were unsure. We felt so confident that he would make our wedding incredible. The day of the wedding when we met Frank we felt like we met a lifelong friend. Frank and the rest of the band were so friendly and personable. From the minute we heard them play live we were stunned. They sounded AMAZING. THe dance floor was packed the enitre night of the wedding. They played everything from Zac Brown Band to Chicago to Walk the Moon to Nelly. The way they mashed songs kept the dance floor packed the entire night. My husband and I only sat down during the toasts because we could not stay off the dance floor. Whenever we run into family and friends after our wedding the first thing they always say is, "wow your band was amazing". We hope to hear them perform again because they are so talented. Booking Nocturne aboslutely made our wedding UNFORGETTABLE.
Kerrin