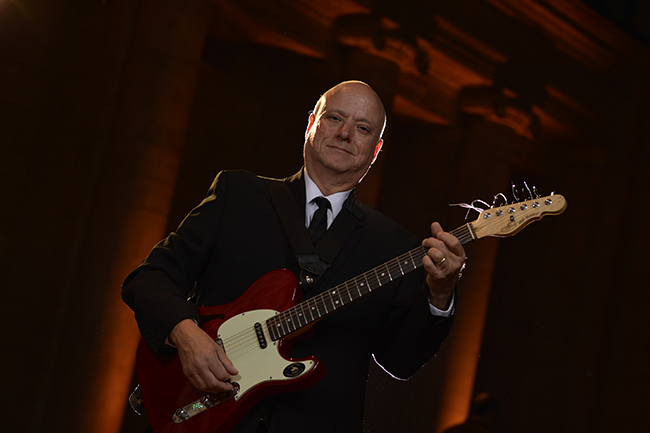 Pete Saunders often refers to himself as a musical Swiss Army Knife. As a bandleader, musician, vocalist, arranger and music librarian for Hank Lane Music, it's easy to see why. Pete is a multi-instrumentalist and vocalist who plays guitar, electric bass, keyboards and drums. He even plays the accordion, which he began playing when he was just 5 years old. By the time he was 12, he had switched to guitar and began playing in school groups.
A graduate of Hofstra University, Pete received a BS in Music Theory & Composition. He was an assistant choral director of the Hofstra University Chorus and was the recipient of a Dorothy B. Hoag Scholarship. A professional bandleader and musician for the last 26 years, Pete joined Hank Lane Music more than 10 years ago. As the company's music librarian, he has a very important job beyond being a musician at Hank Lane. Pete reviews every client's list of musical requests for each of the 15 different Hank Lane dance bands, plus the Classical and Jazz ensembles. In the library he oversees a collection of 10,000 songs and sheet music. Finding music for unusual client requests can often be a challenge, as is ultimately getting all of this information to the band or musician who needs it. If sheet music is not readily available, Pete often writes the musical arrangement himself by ear after listening to it.
Over the past few years, Pete has transcribed guitar and vocal music for several publishers, including Warner Brothers, and for such artists as Jon Bon Jovi, Elton John and Bruce Springsteen.
Reviews
Hi Stephanie,
Thank you SO MUCH for your work with us and Pete for our wedding. I'm sure you are aware but the Pete Saunders Band is absolutely amazing!!! We had very high expectations and were still totally blown away. Guests still cannot stop raving about how great they were and I can't tell you how many people have said "I've never been to a wedding where literally every guest was dancing!" Their work made an already terrific wedding just so special. I will of course write a note to them and leave a rave review but just wanted to let you know as well.
Thanks again!!
---
Hi Stephanie –
I'm back in DC catching up and still glowing about the wedding! I think we all felt it was a wonderful and special evening and Pete Saunders and the band (both musicians and singers) set the tone from the very beginning. They did a beautiful job right from before the ceremony on. They are all superb at what they do, they gauged the crowd beautifully, and the song selection and pacing were perfect. Cat and Mike felt truly celebrated by the music and I danced all night long! In fact, I've had dozens of compliments about the wedding so far and every single person has mentioned the music and said it was the best band they've ever heard at a wedding. Many many thanks for all you did to help make it such a success!
All best,
Lucy
---
Pete,
Just wanted to thank you again for doing such an amazing job last night. Everyone can't stop talking about how great the music was. I especially wanted to thank you for all the help with the song and for making me feel at ease earlier this week. I watched a video of the song and can't get over how perfectly you all backed me up. You are awesome.
All the best,
Jonathan
---
Hank Lane should be your only Band that you book! They're the best sounding, live band out there - and Pete Saunders band is one of the best, and nicest ones around!
As reviewed on weddingwire.com
---
Hi Ian:
I'm writing to thank you for making Ricardo and Cynthia's reception a fabulous success.  For me, the most important element in a successful party is the music, and we can always count on you to provide the perfect band. The Pete Saunders Band provided music for every guest to enjoy and they kept the dance floor full the whole night.  Cynthia told me that she had never seen her parents dance before in her entire life - but they did a lot of dancing that night! Pete and his entire band were wonderful and very talented.  Thank you so much for obtaining their services for us. You can be certain that we will never go anywhere else but to you!
Fondly,
Annette Davila
---
Pete,
I cannot begin to thank you for the work you and your band did at our wedding. The music was spectacular, the sound was impeccable and the way you could read the night made our night perfect. I obviously want to thank you for allowing my moment in the spotlight, which in the end became all about Mara. I have been told it was the moment of the night, so thank you again. We tell everyone the name "Pete Saunders" and I hope we run into each other again soon.
All our thanks,
Russ and Mara
---
Pete,
Thank you again for the most amazing night of our lives. I can't tell you how many people have commented that it was the highest energy wedding they have ever been to... mission accomplished! You guys were incredible and it meant so much to us that you played our favorite hockey song. Every thing about it was perfection and you really gave us our dream wedding, and we cannot thank you enough!
- Amy
---
Hi Kim,
I just wanted to thank the band Saturday at Josh and Janna's wedding. They were absolutely incredible! The wedding was amazing so much fun and the energy and love was palpable. Pete Saunders Band helped make it such a great celebration.
Thank You All So Much,
Jill Buchalter the new mother in law!
---
Hi Pete!
Thank you so much for such an incredible soundtrack to our wedding. People still can't stop talking about how incredible the band was. It truly made the night so much fun and incredibly memorable. Your whole team did an amazing job!
Thank you so much for sending the copy of the music! It is something I will treasure!
All my best to you and everyone!
Jaime