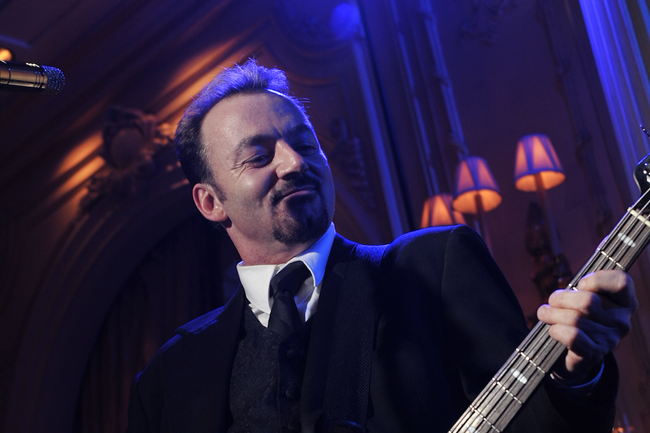 Russ Bennett has been on the road to establishing himself as a career-oriented musician and singer/songwriter since the early days of his teens.
As the leader Hank Lane Music's popular Russ Bennett Band he performs at over 150 live engagements per year.

All of this experience has only added to Russ's skills on the Hank Lane team as a partner of the company's New Jersey operation. As a band leader, lead vocalist, bassist, guitarist, drummer and sound engineer, Russ has been with his "set" band at the company for the past 17 years, performing for many high-end clients, including at the wedding of New York radio Z100's DJ Carolina Bermudez.
 
As a songwriter Russ has shared the concert stage and Billboard Music charts with the likes of: Fleetwood Mac, Maroon 5, Train and many others. Dozens of his songs and music videos have aired on domestic and international TV shows and TV commercials including This Is Us, The Young and the Restless, One Life to Live, All My Children, the CBS Winter Olympics and VH1 to name a few.
Reviews
"We used Russ Bennett Band for our wedding on June 11th and it was one of the best wedding decisions we made for vendors. We went with Hank Lane after one of our friends used the company for their wedding and we loved the energy and style. After meeting with Russ we quickly saw that they would be a good match for our love for a variety of music types. It's a pretty hands off process to set up your songs, announcements, etc. For someone like me who is extremely detail oriented, organized, and needs to be in control I was a bit nervous with the small amount of contact and easy online form method to set up your big day. But, it truly was that simple and they delivered! We are still getting compliments about our band and how spectacular they were. The acoustics of our venue's room were a bit loud which drove some people off the dance floor at the end of the night however; we heard from guests that even listening from the courtyard outside made for a great concert. I would highly recommend Russ Bennett Band to anyone who asks!"
---
Hi Russ,
Just wanted to thank the Russ Bennett Band for the truly amazing job you did at Bari and Adam's wedding reception! The musicians did such moving renditions of the songs during the ceremony as well!
My philosophy has always been that the band makes the party and your band certainly succeeded in making it a standout event!
My phone hasn't stopped ringing since and every person has mentioned how awesome you guys were…in fact, many said that you were the best band they had ever seen (I agree with that)! I know how happy Bari and Adam were with how you executed their vision of the energy they wanted at their wedding…they wanted everyone up and dancing the whole night and dance the night away they did!
Thank you again!
Randi Mogil (Mother Of The Bride) Russ Bennett Band to anyone who asks!"
---
The Russ Bennet band is AMAZING!!!! We met Russ at our first meeting at Hank Lane and were totally sold after seeing a few of his bands performances from other weddings. He seemed to know exactly what we were looking for and what our style was. We never worried leading up to our wedding day about anything with the band. Every song they played was perfect for what we wanted and they had everyone up on the dance floor all night. All of our family and friends could not get over how fantastic they were and everyone asked us if they perform anywhere that isn't a wedding so they could go and see them again! We would definitely recommend them to anyone who is looking for a phenomenal wedding band!!

As reviewed on theknot.com
---
We used the Russ Bennett Band, and I couldn't have been happier! They had people on the dance floor the entire time, and my guests keep talking about how great the band was!
As reviewed on theknot.com
---
Russ Bennett and his band are phenomenal and definitely know how to jam! They sound amazing and kept everyone up on the dance floor the entire time! The best was when the singers came on the dance floor and interacted with the guests. They were the life of the party and we can't thank them enough for making it such a special night!
As reviewed on Yelp
---