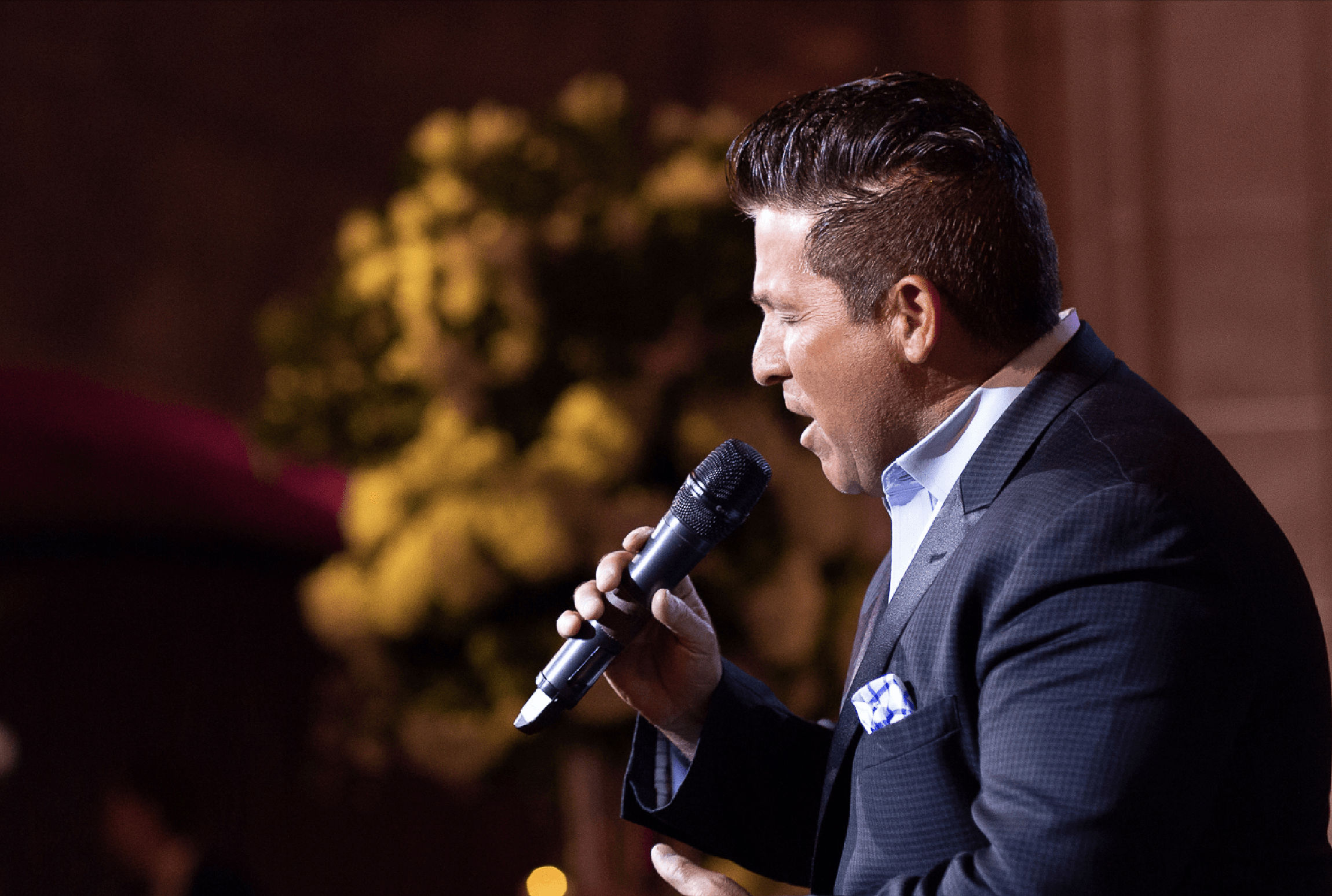 Performing is what Steve has become known for in his more than 15 years as a band leader and lead singer for Hank Lane Music. With a voice that can easily range from Frank Sinatra to Journey's Steve Perry to the great Andrea Bocelli, Steve began to receive early recognition as an outstanding singer while a student at Pace University, where he ultimately received a degree in Finance. In 1979, he was voted Best Male Vocalist in the Summer School of the Arts competition among more than 3,000 contestants from around New York State. However, Steve really burst on the scene nationally, and was the most-voted-for performer in 1986 on TV's original Star Search. The next year he recorded a national commercial for Mothers Against Drunk Driving (MADD).
Steve has appeared on NBC's Today Show on the popular morning program's Today Throws A Wedding segment; has appeared several times on the We Channel's My Fair Wedding with David Tutera for celebrity wedding planner David Tutera and sang the traditional wedding first dance at Ivanka Trump's wedding. He has also performed with stars such as Whitney Houston in Atlantic City, NJ. Steve and his band can frequently be seen at dozens of charitable galas and corporate events each year.
Reviews
Best decision we made during the planning process was choosing the Steve Delisi Band for our wedding.
We knew Steve was going to rock the house, but what we experienced went way beyond that. So many of our guests told us they couldn't believe this was a band at a wedding, they felt like they were literally at a concert. The dance floor was packed the entire night.
My husband and I took a moment to ourselves during the middle of the party to observe the dance floor and everyone at this point was facing the stage in awe of what they were seeing. We also loved our ceremony music and cocktail hour music provided by Steve and additional band members.
Thank you
Steve Delisi and Hank Lane, we had the BEST NIGHT EVER and can't thank you enough!!!!
---
Dear Erik & Harris-
Steve Delisi took an already sensational wedding to a whole new level of greatness!! His fantastic voice and song choice brought all ages together, dancing and singing every word!! The Steve Delisi Band was sensational, every single song was a winner, and a crowd pleaser!! I am blessed with amazing friends and family who ALL have a tremendous feel for partying and great music and they were truly all blown away …dare I say… Steve Delisi was worth every penny and I truly thank him from the bottom of my heart!!!!!!!
All my love and thanks,
Toni Leblang
---
Steve Delisi band was phenomenal! Steve had a great voice and his male and female vocalists killed it. Our whole crowd told us the band was perfect! So happy we used hank lane!
As reviewed on theknot.com
---
The Steve Delisi band was superb! Steve had a great voice and great vocal range. The female and male vocalists sang their hearts out. Sooooo happy with the band and everyone at our wedding agreed.
As reviewed on weddingwire.com
---
We booked the Steve Delisi band from hank lane for our wedding in September. All I have to say is WOW. Steve and his band far exceeded all of our expectations. Everyone at the wedding couldn't stop talking about how amazing his whole team was and how they didn't want them to stop playing. If you are going to have a band at your wedding it needs to be Steve's and it needs to be through Hank Lane!
As reviewed on weddingwire.com
---
We booked The Steve Delisi Band for our wedding this July and we could not be happier with the choice we made. Start to finish, the team at Hank Lane showed the outmost professionalism and gave great recommendations about the number of band members we should hire. 
It is a month later and our guests are still raving about the Steve Delisi Band and that is always the first compliment we get- "That Band though!!!" Everyone was on their feet all night and there was something for all, which is a true testament to how versatile Steve and his band really are. His collaboration with another singer we hired was seamless, as well as his other band members who did vocals. Steve performed all of the songs we loved and his voice was fantastic. Stefano also rocked all of the Italian music, and all of our Italian guests truly enjoyed it. The music did not stop for a second-no breaks! We highly recommend Hank Lane and The Steve Delisi Band!!
As reviewed on weddingwire.com