Wedding Singers And Vocalists
for NY, NJ & Tri-State Events
Our Interactive Wedding Singers Will Get Guests On Their Feet
While the wedding singers in the famed movie are a hilarious joke, our wedding vocalists mean serious business. You'll never see them singing an endless loop of "Do You Really Want to Hurt Me?", because they'll be too busy belting out songs that bring the house down!
Our New York home base is a magnet for talented singers from across the US and around the world. We are fortunate to have auditioned and trained many of them to become members of the Hank Lane family.
No matter where your reception is happening...NY, NJ, PA, CT, RI...our wedding singers will make it the most talked about Tri-State event in your circle of friends.
How? Because our singers are more than just insanely talented vocalists, they are performers too! They know how to bring a strong presence to the stage and, when and if the time is right, even get on the dance floor with the crowd!
"The two lead singers were out on the dance floor with us showing us their moves and it was more of a performance than just a band playing music! Thriller came on and the lead female singer did the Thriller dance!" - Liz, WeddingWire Review
We're also really proud of our singers' versatility. They've got the range and experience to cover just about any genre or decade.
"UNBELIEVABLE! If you want a PACKED Dance Floor at your wedding or any other event with all different types of music from the 1940's to the 1980's to present day then you only need to contact Hank Lane Productions. They do it all...the singers were incredible, the music was top notch and never a delay in their transfers from one song to the next." - Donna, WeddingWire Review
Vocal Varieties
So what types of vocalists are part of the Hank Lane family? We can cover anything from radio hits to ethnic music to opera, broadway and unique themes. Here are a few types of vocalists you can find at Hank Lane:
Band Singers
Our dance bands include at least one vocalist, but many come standard with several singers to bring as much depth to the repertoire as possible.
All of these artists are trained and experienced in the full gamut of music styles, such as pop, rock, R&B, motown, rap, jazz and Top 40 hits from the 1950s all the way through today.
Have an unusual obsession with a favorite artist or an unconventional song request? You'd be surprised what our singers can cover...and blown away by how well they do it!
Soloists
Many of our dance band singers may be hired or booked to come earlier in the day to perform as a soloist for your wedding too; at the ceremony, cocktail hour or dinner reception.
If you have a specific theme in mind for your cocktail music, such as a musical style or specific band, the right singer will make your idea come alive. We can accommodate highly specific themed music, such as Vintage Jazz from the 1930s & 1940s, Italian opera, The Beatles, Disney soundtracks, Movie love songs, Frank Sinatra standards, Broadway Musical themes and more.
Gospel Singers
Turn your ceremony into a soul-inspired blessed union with a powerful choir of glorious gospel singers. Every guest will feel their spirits lifted with the stirring sounds of classic and modern gospel or R&B favorites ringing in their ears.
Jazz & Swing Singers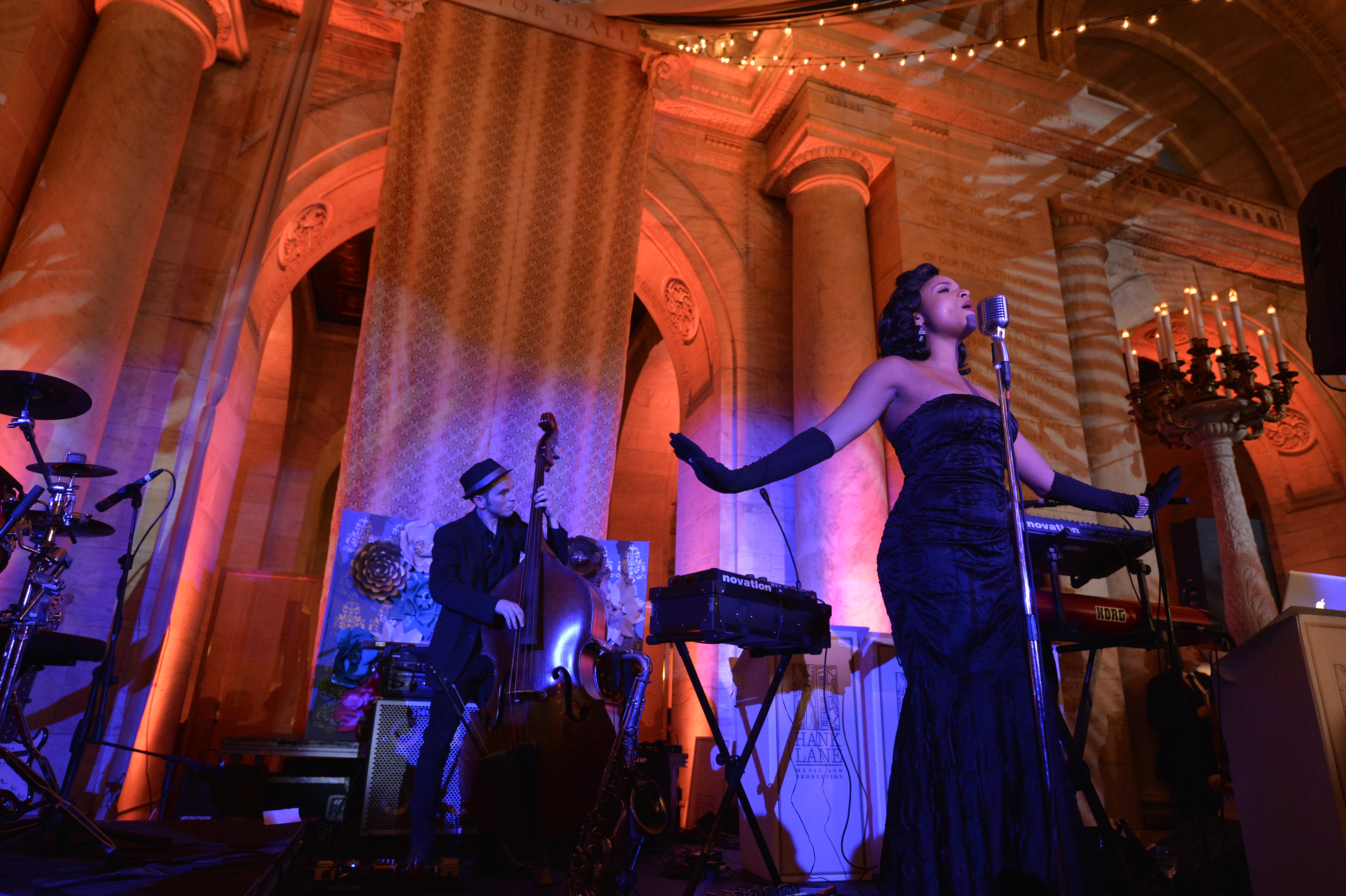 Typically accompanied with jazz or swing musicians, our jazz singers will get your guests anxious to move their feet, while providing premium entertainment with every tune.
Ethnic Singers
Want to incorporate your heritage into your special day? Our specialty ethnic singers will honor your family's home country and bring personalization to your event. Choose from Greek, Latin Hebrew, Russian, Indian and French chanteuse singers.
Find a Vocalist for Your Wedding
Schedule a consult with our Events Team to discover the wide range of talent available to you and make your wedding as legendary as you've dreamed it could be!
Let us help you create that vision