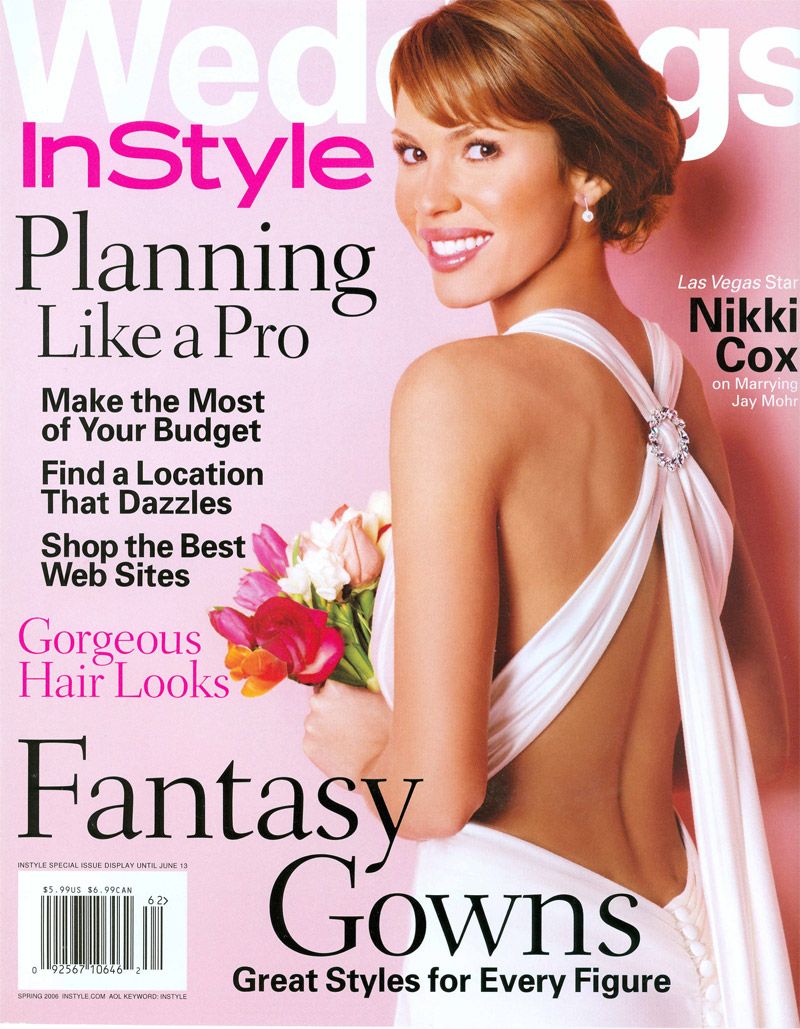 Weddings InStyle Magazine J.J. Philbin - Regis Philbin's daughter
Perfectly SCRIPTED
You don't expect to hear a Roman Catholic priest announce at a wedding, "It's Sunday Night Live!". But that pre-dinner remark in the ballroom of the pierre, a grand hotel in New York City, conveyed the mix of tradition and wit that marked the wedding of Jennifer ( J.J.) Philbin,31, a writer for The O.C.,and Michael Schur,30, a writer for The Office. Consider, for instance, that the guests roster included a mix of comedy writers, Saturday Night Live cast members ( the couple met while working on the show's writing staff), and buttoned - down celebrities such as Donald and Melania Trump, Bryant Gumbel and Tony Bennett, all friends of the bride's parents, Regis and Joy Philbin.
           After a 5:30 P.M. ceremony at the Church of St.Ignatius Loyola, the newly-weds joined family and friends for a reception that was 10 months in the making. Joy collaborated with N.Y.C. planner Marcy Blum and designer Preston Bailey in creating the event, which included a cocktail area decorated to look like Central Park, the site of the couple's first official date. While Mike and J.J. credit Joy with the wedding's success - "My mom was a real trouper," J.J. says - they instisted on injecting moments of unorthodox humor into the event. "We have a lot of goofy friends, and we didn't want the grandeur of the room to stifle them", J.J. says. Add Mike, "We wanted something silly to balance out the sophistication that Preston, Marcy and Joy conjured up.
           That might explain the photo booth set up outside the ballroom and the mini cheeseburgers passed as hors d'oeuvres before a meal of chateaubriand and miso-glazed sea bass. And though the Harris Lane Band played hits by Beyonce, Madonna, the Black Eyed Peas and others, the couple engineered a spoof of the first dance, hiring proffessionals who look like them to perform to Duran Duran's "Hungry Like the Wolf" (the couple themselves then look a turn on the dance floor to "At Last"). 
           Even the groom couldn't resist cracking wise during his speech. He profusely thanked Regis and Joy for taking on the planning before pointing out, "Then they totally dropped the ball, and that's why we ended up in this dump." But the new son-in-law soon became sincere (if still playful). "In all seriousness this is the nicest party I've ever been to." he said. "Thank you for inviting me." 
The bride and her father take a spin to "The Way You Look Tonight," performed by the Harris Lane Band.